Food
Re-engineering the value chain
A great challenge in food systems is to get perishable goods to consumers fast. In Kenya, Twiga is making that happen. As Peter Njonjo, the co-founder and chief executive, told Hans Dembowski, this business-to-business platform uses digital technology to manage the supply chain from smallholder farmers and processing companies to informal urban grocers, improving the livelihoods on all sides.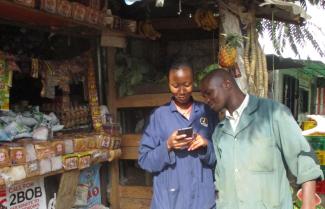 Twiga agent at informal grocery in Nairobi.
What difference is Twiga making in the lives of smallholder farmers?
Twiga ensures they have access to a fair and transparent marketplace via mobile phone, resulting in higher prices for their goods. In the past, they often lost money, time and products because sales depended on multiple layers of brokers to get their goods to wholesale vendors and then retail markets. Each middleman took a cut that ate into their family's income. Twiga offers higher and more stable prices than middlemen. To date we have about 17,000 farmers in our network.
What difference are you making in the lives of informal retail grocers?
We deliver quality goods to their doorstep. Before, fresh-produce vendors had to get up at 4 am and head to the wholesale market. Now, Twiga is bringing the goods they need directly to their shops and stalls. We have a network of about 6,000 vendors. We currently cover about 40 % of a typical informal retailer's offerings. Our prices are actually 10 % to 20 % below those in wholesale markets, with consistently high quality.
In what sense does Twiga depend on digital technology?
Twiga's approach is to "re-engineer" the agricultural value chain. We use digital technology to empower the farmers we source from as well as vendors we deliver the goods to. We process data in real time. Moreover, Twiga is cooperating with financial-service providers who rely on digital devices, so vendors can now finance regular purchases with loans that are interest-free for the first three days. Our e-commerce platform allows informal grocers to place orders, view their order history and plan future orders.
Twiga started out with distributing bananas. Why is this fruit strategically important?
Well, Nairobi consumers love bananas and spend about 2.5 % of their disposable income on them. Bananas rot fast, moreover, so it is important to market them fast. We link farmers and retail vendors efficiently.
In what sense is your distribution system better than the conventional wholesale supply chain?
Twiga has built digital systems that allow us to process data in real time so we can continuously adjust prices and routes responding to what is on offer and what is demanded. We now provide many of the farm produce vendors want, including potatoes, tomatoes, onions, water melons and many other goods. On top of that, we also distribute staple foods like sugar, rice and maize. Our product range also includes milk, juices and even sweets. It covers about 75 % of what urban households buy. We keep broadening the range of products, so we are becoming ever more valuable in our partners' eyes.
Why are informal grocers so important?
The plain truth is that urban Africans depend on them. Cities are growing fast, and there typically are only very few formal shops and supermarkets. By aggregating the orders of thousands of informal grocers, we can improve quality and efficiency. We supply goods at attractive prices and at the right time.
If the pattern is the same across Africa, will your business model work in other places too?
Yes, 100 % in sub-Saharan Africa. We keep learning and perfecting our business model. In Nairobi today, a banana which is sourced only a few miles away costs the same as a banana costs in London after having been transported for thousands of miles. On the other hand, people in many African countries spend about 50 % of their disposable income on food, versus only 13 % in London. We are driving change to the benefit of farmers, grocers and consumers, and we plan to expand to other African cities soon.
How many people are you currently employing and what is your monthly turnover?
We have 500 employees, and our monthly turnover was about the equivalent of $ 1 million in spring.

Peter Njonjo is Twiga's co-founder and chief executive. The interview was done by e-mail. Hans Dembowski first met him during a trip organised by DEG, the German development finance institution, which is supporting Twiga with loans because of the contributions the company is making to improving both urban and rural living. DEG belongs to KfW banking group.
Twitter: @njonjo2012