Paris climate agreement
No time to rest on laurels
The Paris climate agreement was concluded in December 2015 and triggered a wave of excitement. The international community had agreed to cooperate on limiting climate change. The initial euphoria has since dissipated. Where do we stand today?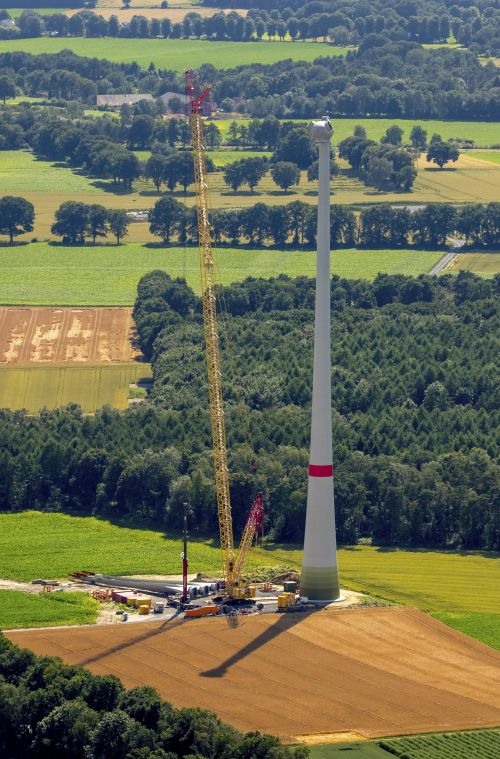 Hans Blossey/Lineair
The good news first: global emissions of carbon dioxide, the most important greenhouse gas, have levelled off in recent years in spite of global economic growth. That is very much the kind of development that the Paris agreement was designed to achieve.
At the 21st Conference of the Parties (COP 21), 196 countries agreed in the French capital to cooperate on slowing down the rise in global average air temperature near the earth's surface. At the same time, the international community committed to the ambitious goal of limiting global warming to well below two degrees above preindustrial levels. It also pledged to help the poor and worst-hit countries to adapt to climate change and to promote global financial flows in order to boost the resilience of the communities affected.
It all sounds good. Even the number of countries committing to the agreement is impressive. As of August 2017, the accord has been signed by 195 parties to the UN Framework Convention on Climate Change (UNFCCC) and ratified by 159 countries.
Several weeks ago, US President Donald Trump announced that the United States – the world's largest economy and historically the biggest emitter of carbon dioxide – will pull out of the Paris agreement. Fortunately, that has not so far shaken confidence in the accord. On the contrary, it has given rise to a kind of "now more than ever" determination.
France's newly elected president, Emmanuel Macron, openly criticised the United States. That rebuke should not be overestimated. It matters, however, that the G20 summit in Hamburg in July sent a powerful signal when 19 countries unanimously affirmed their commitment to the Paris agreement. The final vote left the US isolated 19 to 1.
Trump has neither managed to sow doubt and insecurity, nor to deal a blow to the transition to cleaner, sustainable energy. His plea for coal and the possible abandonment of renewable forms of energy generally failed to make much of an impression. Even within the United States, there has been fierce opposition, especially from parts of the business community seen as industries of the future.

Symbolic power
What really makes the Paris agreement important, is its symbolic power – the sense that all nations are working together to mitigate climate change. Thus, it is the most comprehensive climate treaty ever. But it must not be excessively eulogised either. It offers a big framework, which still needs to be filled with life.
It is good to see that the "below two degrees" target has now broadly been ratified. But the reality is that – even if current national reduction targets (nationally determined contributions – NDCs) are implemented – we will still be heading for a three degree rise in global temperatures. The plans in place at country level will not achieve the goal.
Much of the momentum generated by the Paris climate summit has now dissipated. Various debates mark day-by-day politics – from the United States' dispute with North Korea, to the discussion about refugees in Europe, to the diesel scandal involving German car makers. In this setting, climate change mitigation is easily side-lined – even though 2017 has once more shown that the warnings issued by the Intergovernmental Panel on Climate Change (IPCC) deserve to be taken seriously. Extreme weather events are increasing.
Torrential rains, heat waves and droughts have wreaked serious damage in Europe this summer. Flash floods and landslides in Germany and Austria, torrents and hailstorms in Turkey, parched earth and forest fires in southern Europe are just a few examples. Such events barely made headlines, the daily news-cycle was dominated by issues such as migration and Trump.
Speaking of migration, unbridled climate change will result in a major surge in refugee movements in the medium to long run. It is safe to make that assertion. What we are witnessing today is just the beginning of a bigger development. While climate stress is not the primary driver of migration so far, it clearly is a catalyst. As the growing populations of poor – and sometimes fragile – states are becoming exposed to ever growing climate stress, waves of displaced persons are a virtual certainty (see the Platform on Disaster Displacement article in D+C/E+Z e-Paper 2017/04, p. 26, and print edition 2017/5-6, p. 34). A one-metre rise in the level of the Mediterranean Sea, for instance, is likely to force more than 6 million people out of their homes in Egypt. For that reason alone, curbing climate change needs to be an international priority.

Losing time
Not enough tangible action has been taken to achieve the vision of the Paris agreement, which is to decarbonise the global economy as fast as possible. The reason is that the Paris agreement stipulates rather generous mechanisms. Countries can decide on their own contributions, plans and regulations for reducing emissions. However, there are no mechanisms for enforcing compliance. The only requirement is that country targets should be ambitious. The Paris agreement has postponed verification of implementation to sometime in the future. We risk losing valuable time.
Arguably, the debate on mobility and combustion engines that stirred emotions in Europe this summer indicates political action.
Norway advocates emission-free new cars from 2025. The UK plans to ban the sale of diesel and petrol-powered vehicles from 2040 on. Michael Gove, Britain's cabinet member in charge of environmental matters, made this vow in the context of the UK's current clean-air plan. Under it, all diesel and petrol cars and vans are to disappear from UK roads by 2050.
France's Environment Minister Nicolas Hulot similarly announced an ambitious climate protection plan, stressing the importance of the Paris climate summit. His five-year plan will banish environmentally harmful vehicles. Moreover, the country plans to stop using coal to generate electric power by 2022. Major investments aimed at boosting energy efficiency were also announced. In contrast, the debate in Germany about test-cheating car software and nitrogen-oxide emissions of luxury vehicles is simply embarrassing.

Signalling the transition to cleaner energy systems
Electromobility is only a small – albeit important – part of the needed response to climate change. On the energy front, positive signals are seen in the electricity market. The phasing-out of coal power stations, which is also a much-discussed issue in Germany, would be a huge step forward. The energy transition is gathering momentum in many countries – fast in some, but at a slower pace in others.
New mobility patterns are emerging in numerous cities. Electric cars, car-sharing models, even rail travel is experiencing a renaissance in some places. These positive trends must be sustained. There is massive potential in the energy and climate transition – and there are many opportunities. Countries and industries that position themselves successfully in the fields of smart grids, grid development or storage technology now will be ahead of the competition in the coming decades.
Technological innovations in areas like this offer unique opportunities to an industrial nation like Germany. Successes in the transition to sustainable-energy systems can create new momentum. Incentives are important. It will now be interesting to see whether all the pledges made in 2017 will be followed up with action.

Momentous decisions
Important tracks will be laid at the upcoming climate summit in Bonn (COP 23). In 2018, the member states will have to declare their climate targets. If they are ambitious, plausible and long-term, they can inspire courage and motivate. Key countries must not rest on their laurels now, letting things slide. The big emitters, in particular, need to commit to action.
If policy is set to continue in the direction towards decarbonisation, renewable energy and reduced subsidies for fossil fuels, we will achieve an important sub-goal. Higher costs of carbon emissions could provide a robust price signal and promote climate-friendly investments. The energy transition will not be brought about without reliable long-term investments. A lot needs to be done at the upcoming climate talks – as well as at national and regional levels. It is not enough just to express a commitment to climate change mitigation. Real success depends on action living up to promises.

Thomas Loster is the chairman of the Munich Re Foundation, which deals with major global challenges including poverty reduction, environmental pollution, climate change and disaster prevention.
tloster@munichre-foundation.org