Economy
A new beverage business
Western Uganda produces great quantities of bananas, yet not all are consumed locally. The United Nations Industrial Organization (UNIDO) has supported government efforts to make use of surplus bananas. It turned out that it is economically viable to produce an alcoholic beverage, and some rural women have made a business out of its.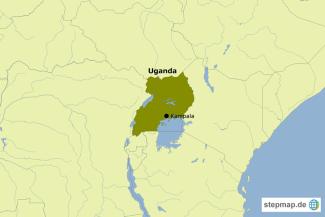 stepmap.de
Local banana farmers in Uganda have been producing banana juice and crisps for a long time.   Rebecca Nanjala, the UNIDO's national project coordinator in Uganda, reports that a baseline study was made. Afterwards, "we decided to concentrate on banana wine which stands out because many local farmers engage in it". She says Makerere University has been supporting the efforts.
Most of the wine is produced and processed by rural women in western Uganda. They work in teams of about 10 to 20 farmers. Nanjala reports: "They bring all bananas to one member's home and process them there." After selling the wine, the cash is shared among group members.
First the Bananas must ripen. Then they are boiled and the juice is extracted. "The boiling is done to kill germs," Nanjala says. Other ingredients like yeast are added later. The UNIDO project coordinator points out that the farmers mostly use local resources. The more that is the case, the more value is added. This is something UNIDO pays attention to. Of course it is equally important to make good quality wine that people want to buy. According to Nanjala, some groups make up to 2,000 litres of wine in a month.
"We hope to reach out to 2,500 beneficiaries in the near future", Nanjala says. One challenge is to meet the requirements of the Uganda National Bureau of Standards (UNBS). The UNIDO manager expects her beneficiaries' products to be approved by the government agency, and that would facilitate exports, which, in turn, would "encourage consumers to buy Ugandan products". Having bottles and labels made in Uganda would help wine producers.
There are natural limits to growth however. It takes a banana fruit nine months to mature. 

Gloria Laker Aciro is a former war reporter, now heading the Peace Journalism Foundation of East Africa. She lives in Uganda.
glorialaker@gmail.com
Twitter: @GloriaLaker