Urban life
Rio's poor have reason to fear the police
For residents of favelas in Rio de Janeiro, death sometimes comes from high above. Fighting violent gangs, police snipers shoot from helicopters. All too often, they kill innocent people, including children. Things became so bad that the Federal Supreme Court intervened and restricted the use of police helicopters.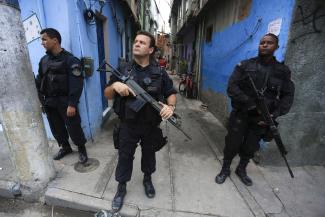 Diniz/BrazilPhotos/Lineair Fotoarchief
Luis Felipe Rodrigues belongs to a Samba group in one of Rio's favelas. He says that perhaps seven percent of the local people have some kind of connection to the illegal drug business and the mafia gangs that control it. The other 93 %, however, are exposed to police violence. According to the Public Security Institute, an agency of the state government, the police killed 885 people in the first half of 2019 alone, of whom 711 – or 80 % – were persons of colour.
Rio de Paz, a non-governmental organisation, has surveyed 57 press reports about children being killed by stray bullets from 2007 to 2019. In more than half of the cases, the cause were skirmishes between the police and gangsters.
Upper-class Brazilians tend to blame favelas for breeding crime. What they ignore is that many rich people are involved in white-collar crime. A prominent example is Sérgio Cabral, a former governor of Rio de Janeiro state, who was sentenced to 45 years in prison for corruption as well as embezzling and laundering money.
It is also well understood that the drug mafias have close ties to state agencies. The scholar Thiago Rodrigues speaks of "symbiotic relations". He argued this case in 2018 in an essay he wrote for the Konrad Adenauer Foundation, which is close to Germany's Christian Democrats (see blog post on our website). The drug trade is the dominant industry in some favelas, Rodrigues admits, but the gangs bribe security forces, judges and policymakers. Typically, a precarious equilibrium is found, reducing risks for all parties involved and delivering considerable benefits to the most powerful players.
Sometimes, however, the police invade a favela, and things turn violent. Those who suffer the impacts are mostly bystanders and perhaps some low-level gangsters, reckons favela resident Luis Felipe Rodrigues.

Link
Thiago Rodrigues: Symbiotic relations.
https://www.kas.de/en/web/auslandsinformationen/artikel/detail/-/content/symbiotische-verbindungen