Military
Global benefits, national motives
Bangladesh is a world leader in terms of contributing soldiers and police officers to international peacekeeping missions. This policy makes sense at the national and global levels. By Mohammad Humayun Kabir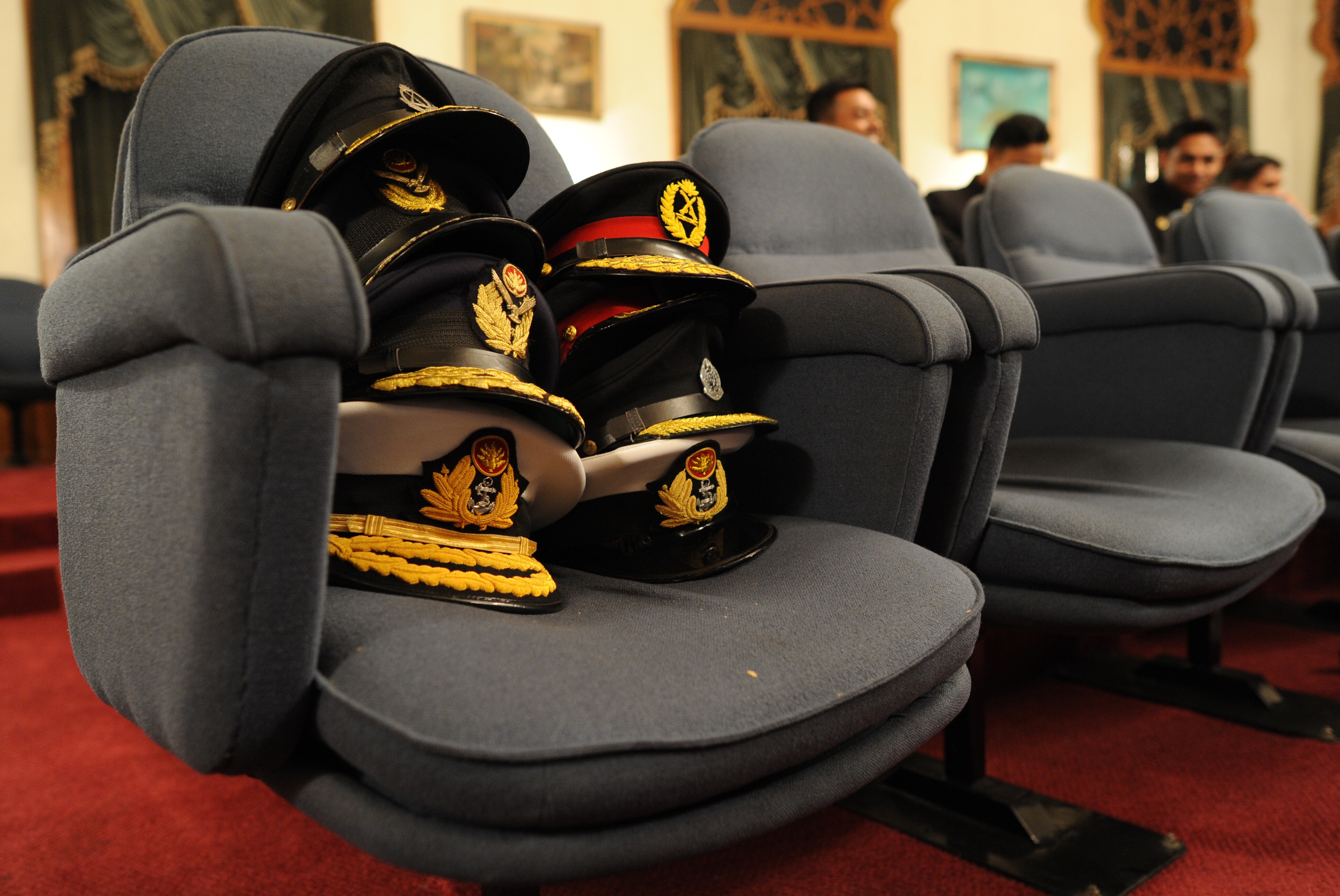 Jensen/picture-alliance/dpa
UN peacekeeping has come a long way since its start in 1948. There were many changes in the deployment and the meaning, mandate and composition of peacekeeping forces. Peacekeeping operations today are multi-dimensional, multi-functional and truly multi-national, with participants from many developing nations.

Bangladesh has participated in most UN missions. More than 120,000 members of the armed forces and the police have been involved. Currently, only Pakistan has more peacekeepers in ongoing missions. This essay will discuss what motivates the government of Bangladesh to deploy forces abroad and how that benefits the international community.

There are three sets of factors for Bangladesh to support UN missions with troops: global responsibility, regional dynamics and Bangladesh's national interests. Moreover, there are pull and push factors:
Pull factors: Bangladesh has been an active member of the UN since it became a member in 1974. After the Cold War ended, many parts of the world experienced horrors of strife and conflict that resembled the traumatic experiences of Bangladesh's liberation war in 1971. In the 1990s and later, the UN was called on to prevent, manage and resolve many conflicts. Needing an ever increasing number of peacekeepers, the UN increasingly relied on Bangladesh as the country proved capable of contributing troops for maintaining peace and security.
Push factors: Bangladesh pursues a policy of active participation in global as well as regional peace processes. It is one of only few countries that have recognised the UN Charter in its national constitution. Bangladesh is thus committed to maintaining international peace and security by multilateral means.

There are more tangible motivating factors too, as Bangladesh benefits from participating in UN peacekeeping missions in diplomatic, financial and military ways:
In terms of diplomacy and foreign affairs, the performance of Bangladeshi peacekeepers has bolstered the country's international reputation. Bangladesh gets favourable recognition and publicity. The country's clout in international and multilateral settings has grown accordingly.
Moreover, peacekeeping missions allow Bangladesh to develop relations with the conflict-afflicted regions and countries. As a small and vulnerable country, Bangladesh can always enlist this critical international support in its trying times.
In terms of finance, there are advantages too. The peacekeepers appreciate pay and allowances, and the government benefits too. The UN disburses the money for paying the peacekeepers to the government in foreign currency. The observers, however, are paid directly by the UN. Moreover, the UN pays for the depreciation of the equipment used during a mission.
In military terms, Bangladesh's peacekeepers are professionally gaining from their exposure to the world. In particular, they get to understand how more advanced armies operate. They are exposed to many different systems of military management and equipment, types of conflict, et cetera. As a result, their capacity to fight wars is enhanced. Moreover, OREOVER, they learn to operate in an international, multi-national environment that provides them with opportunities to acquire and apply new knowledge. Finally, there are career opportunities to, with some peacekeepers being promoted to positions in the UN headquarters.

A sense of duty

Generally speaking, Bangladesh responds pragmatically to requests to commit troops to the UN or other non-aggressive partners. Sometimes it even volunteers to offer peacekeepers, especially due to humanitarian considerations. However, Bangladesh does not send troops into conflict situations or into circumstances where they might look like aggressors. Nor does Bangladesh compromise its national interests or values.

The world community needs peacekeepers that are willing and able to implement the UN mandate for a particular peacekeeping operation (PKO). The government of Bangladesh claims that its peacekeepers have earned "the credentials of a 'role model' due to their professionalism, commitment, impartiality, integrity and humane attitude". Many have received UN medals of honour, and many have been appointed to positions of leadership in PKOs (including the positions of force commanders and chief military observers).

Bangladeshi troops are known to be highly disciplined, well-trained, hard working and personally committed. Moreover, they have a reputation for adapting to local exigencies and demonstrating a caring attitude towards the local people in the countries concerned. For instance, they have shared UN rations with the people and extended medical facilities to them. Bangladeshi peacekeepers tend to inspire confidence among conflicting parties as well as non-combatant locals.

Bangladesh is a resource-strapped South Asian country. It is obvious that it is not pursuing any hidden power agenda in other continents when it joins PKOs. Bangladeshi troops do not interfere in the domestic politics of the nations concerned, nor do they antagonise any factions by displaying arrogance. That Bangladeshi peacekeepers are considered acceptable almost everywhere in the world contributes to the success of UN missions.

Bangladesh, India and Pakistan are the three major countries of South Asia, and all three are among the world's top peacekeeper-contributing nations. Bangladesh has a number of unresolved bilateral issues with the other two South Asian countries. It certainly does not hurt that their peacekeepers work together on many UN missions. There is quite a bit of camaraderie and networking at the personal level, but it does not graduate to a level where it would have any impact on the country-to-country relationships. South Asian tensions are hardly abated by joint participation in PKOs elsewhere.


Relevant costs

Operating in conflict zones is dangerous of course. There is the risk of death and injury in action. Moreover, there are illnesses and accidents, including road mishaps. According to the government of Bangladesh, 112 peacekeepers made the supreme sacrifice for peace from 1989 to September 2013. The figures are: 91 from the army, four from the air force, one from the navy and 16 from the police. The figure for injuries was not available.

There are human costs of other dimensions. Most peacekeepers, particularly the lower-ranking ones, are separated from their families families for prolonged periods. Such separation can cause several problems. Moreover, there is a risk of troops bringing in social evils – alcoholism, for instance – from conflict areas. So far, however, this has been kept in check by imposing strict discipline during missions.

The military organisations are affected too. When the government deploys troops abroad in big numbers, the units at home may run short of adequate manpower. Other problems may arise from frustration among troops who would like to go on UN missions but are not deployed. Finally, Bangladesh has to bear the initial costs of the equipment its troops take along on UN missions. Depending on the size of the contingent, the category of weapons and other factors, this may amount to a huge sum for a country like Bangladesh.
Uncontroversial contribution

Politics in Bangladesh is normally quite divisive. When this essay was being finalised in December, the country was heading for elections soon, and tensions were already evident. There is not much consensus on anything. A noteworthy exception is, however, the support for international peacekeeping. On the one hand, the people in general appreciate that such missions serve a worthy cause and boost Bangladesh's international standing. On the other hand, many families benefit economically when members or relatives join UN peacekeeping missions.

Bangladesh's participation in UN peacekeeping missions has boosted the country's reputation and shored up its international image. Moreover, there are political and strategic gains. It is interesting that a small – though certainly populous – country with a comparatively weak state should contribute so much to peacekeeping. It is noteworthy, moreover, that participation in PKOs has reduced the armed forces appetite for meddling in domestic politics (see side bar "Background information).

The key factors to success of a UN mission are the clarity of the mandate, the unity of purpose, the unity of command and the unity of understanding of the conflict. Bangladeshi peacekeepers remain honestly and steadfastly focused on all of these and live up to the letter and spirit of the ideals of the UN in general and of the international peacekeeping in particular. In comparison, the financial benefits that accrue to the country are marginal. The number of 125,000 persons involved in peacekeeping is large – but it is only a small fraction of a nation of 160 million. All in all, indeed participation in UN peacekeeping missions has been the brightest of chapters in Bangladesh's relationship with the UN.

Mohammad Humayun Kabir heads the Foreign Policy and Security ECURITY Division at the Bangladesh Enterprise Institute in Dhaka. kabir226@yahoo.com