Broadcasting
Village voices
Inexpensive, easy to operate, resilient and in touch with the people – the success of radio is easy to explain in Bolivia. For the country's large indigenous rural population in particular, radio is the principal, if not only, source of information. The government of President Evo Morales is trying to strengthen rural radio stations – but not necessarily their independence.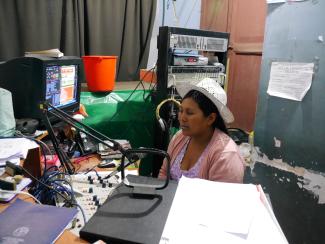 Vierecke
Rosa Jalja straightens her hat, adjusts her dark, heavy skirt and takes her recording device from her pocket. She's ready for another interview. The 60-year-old Aymara Bolivian runs two community radio stations in Copacabana, her home town on Lake Titicaca. She sits at the microphone every day. Today, the topic will be violence against women.

Radio broadcasting to serve the people has been her job for 44 years. She was 16 when she first spoke on the air. Before long, she had her own programme, teaching the village community her language, Aymara. Her conviction is: "Radio needs to educate!"

Radio has a special significance in Bolivia, especially in the remote regions. Even today, the mainstream media in Bolivia are confined to the cities – La Paz, Santa Cruz, Cochabamba, Sucre and Oruro. In small towns and villages, newspapers are not available, and only few people can afford a TV set. Even more, many people still cannot read, especially in rural areas. Radio stations are the voice of the community, and people like Rosa Jalja are real authorities. Antennas are almost everywhere – there are over 300 community radio stations in Bolivia.

"Aymara and Quechua are oral cultures," Rosa explains. "We tell each other stories, we spread the word. That is how we learn. And that is why radio is our medium." The radio makers think community stations are needed to democratise the word in order to democratise society. Rosa Jalja agrees. From the start, her aim was to encourage Aymara women to get active and liberate themselves.


It all began with mining radio

The origins of Bolivia's community radio stations date back to the late 1940s and the mines of the Altiplano. In 1949, Radio Catavi, a mine radio station in the Potosí area, was the first trade union broadcaster to go on air. The mineworkers wanted their own radio station because the traditional media in the city rarely or never carried reports about them. They used radio as a weapon in their fight for independence from the authoritarian government of that era and to exchange information with miners elsewhere and to organise union resistance.

In the next 15 years, many followed their example, buying equipment, acquiring the necessary skills and beginning to broadcast. Mineworkers and other local families paid a small amount each month to finance the station's operation.

The purpose of the radio stations changed with political situations. When times were quiet, they were the voice of their community – providing information about village festivals, carrying communications from local politicians and acting as a post office for mineworkers: thanks to radio, scattered families could keep in touch. But the mine radio stations' greatest moments came in times of crisis. Then, they became the only reliable source of information – independent of the national government.

In the 1980s, when most of Bolivia's mines were closed, their radio stations also disappeared. Once numbering 26, only five are in operation today.

Freddy Calle is among those who started his radio career at a mine station. He worked for one of the biggest, Radio Huanuni, even before he left school. And he stayed there for 14 years – as a reporter, a presenter and later as head of the news department. Thirty years on, Freddy Calle is a lecturer in radio studies at the public university in Cochabamba.

On top of teaching, he is currently fulfilling a life-long dream: in just a few weeks' time, he will launch his own radio station. The studio is still being equipped and the schedule is being fine-tuned. But the most important step has already been taken: he has a frequency – a broadcast licence for the station. "It was an exhausting process, but one that wouldn't have been possible for small stations like ours without the new Telecommunications Act," Calle says.

The Act was pushed through by the Morales government in 2011. Previously, more than 90 % of media enterprises were in private hands. Thanks to the new legislation, the landscape will gradually be transformed: 33 % of broadcasting licences will be held by the government and the remainder assigned to the commercial sector (33 %), social community radio stations (17%) and stations serving the indigenous population, farmers or Afro-Bolivian communities (17%). Evo Morales' leftist MAS party speaks of "the end of large-scale ownership of the media".

Critics accuse Morales of launching an assault on press freedom. They are against the redistribution of broadcasting licences. Moreover, they criticise the regulatory authority – ATT – that the government established to supervise frequencies. They expect broadcasters to try to please the government.

Freddy Calle disagrees: "Small community media now have a chance of finding their place in the Bolivian media landscape. In the past, freedom of expression was a privilege of the well-to-do, who bought media to act as their mouthpiece."

It took Calle over two years to get his frequency. To qualify for a licence, he needed the endorsement of more than 20 social organisations, including associations of retired mineworkers, domestic workers and even sex workers. The law requires that community radio stations should have the support of – and give a voice to – as many civil-society organisations as possible.


New radio stations for indigenous villages

The government has provided massive support for rural radio since 2006, especially in indigenous villages. The communications ministry has set up 40 "radios de pueblos originarios" – radio stations of indigenous villages – across the country. Another 50 are planned. The government provides equipment (a mixing console, a computer, table, chairs and a microphone), a small monthly salary for one staff member, and the local municipality makes office space available. That is the deal.

The setting obviously makes genuine independence difficult. Moreover, the radio stations get their national news from the state broadcaster Patria Nueva. However, most of the localities concerned did not have any media outlet earlier. Many villages are several hours away from the next sizeable town. Roads are poor and, in many places, unpaved. Accordingly, the government sponsored radio stations are the first information-providers the villagers have ever known.

One thing that community radio stations and the new indigenous village stations have in common is that very few people working for them have a background in journalism or communications. Many of the established stations are family businesses. Children watch adults at work and later take over themselves.

The biggest obstacle to achieving professional journalistic standards is lack of money. Rosa Jalja has always financed her stations herself – with small advertising revenues from the village painter, with assistance from non-governmental organisations and literacy campaigns or by organising markets and festivals. "No one gets rich in this business," she says.

Freddy Calle is still working on the financial plans for his radio station. He already runs a small company that offers internet streaming and content-management systems for other broadcasters. But he still wants to look around for new and alternative sources of finance. "We need money to produce good radio programmes. We will only be able to compete with the commercial broadcasters if our programmes are better than theirs."

Freddy Calle's station will focus on the issues faced by the people who move to Cochabamba. According to the latest census, more than 60 % of the city's population were born elsewhere. The vast majority come from the surrounding rural areas, hoping for a better life in the city. "Our job is to give those people a voice," says Calle.
Linda Vierecke is a development worker with GIZ. She specialises in media affairs and lives in Cochabamba.
linda.vierecke@giz.de