Human rights
Violent abuse of detainees
The Philippines is a focus of Amnesty International's current "Stop Torture" campaign . A recent report by the human-rights organisation documents how detainees have been regularly and in some cases systematically tortured and abused by police officers.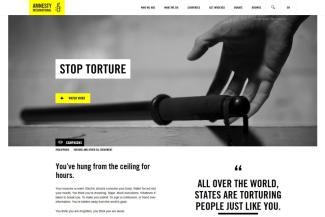 amnesty international
The issue has even prompted two Philippine Senate committees – the Committee on Justice and Human Rights and the Committee on Public Order – to discuss the report in Manila. Particularly shocking was the discovery of a "wheel of torture" that was modelled after the "wheel of fortune" in the TV game show of the same name. Instead of numbers, it displayed torture methods and was used at an informal detention centre in Laguna, a province south of Manila, to determine which method of torture should be used on detainees. The options included punching or 30 seconds of upside-down suspension from the ceiling.
Under international law, torture is not allowed in any circumstances. Torture is absolutely prohibited. The Philippines is a signatory to the UN anti-torture convention and, in 2009, passed an Anti-Torture Act. The act created a basis in national law to prosecute acts of torture. However, it has not led to any actual conviction so far. Amnesty International reports that the Philippine Commission on Human Rights has registered 457 reports of torture and other forms of ill-treatment since its establishment14 years ago. None of these cases has resulted in a conviction.
Due to a lack of  trust in the Philippine criminal justice system or fear of retribution, victims tend not to report cases of torture or other forms of abuse. When incidents were reported and legally prosecuted, complaints were often dismissed on grounds of procedural errors or lack of evidence, for instance, because injuries had healed by the time the complaint was filed. Other cases were settled out of court by victims and perpetrators.
Those who are most at risk of torture are political activists, repeat offenders and police informants wishing to opt out. Most torture victims are from poor families.
Richard Bennett, Amnesty International's Asia-Pacific director, sees the creation of a professional and trustworthy police force as a challenge: "There is no quick and easy solution. Implementable and enforceable laws, strong leadership, sufficient resources and professional training are needed." Amnesty International recently chose to focus its global anti-torture campaign on the Philippines and four other countries. (tj)

Link:
Amnesty International's Stop Torture campaign:
https://www.amnesty.org/en/campaign-stop-torture/