Nigeria
Eerie sense of post-election calm in Nigeria
To judge by the officially declared elections results, Bola Tinubu, the president-elect, could be expected to be able to govern Nigeria comfortably, with strong support from the parliament as well as state governors. That impression is misleading.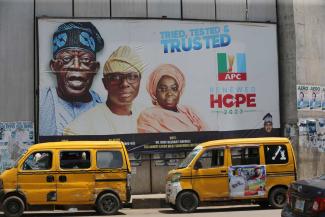 picture-alliance/EPA/Akintunde Akinleye
The political climate in Nigeria appears to be calm, but storm clouds are building up. The results of recent elections were not as clear as the official numbers suggest. In particular, the presidential election was marred.
According to the election commission, Bola Ahmed Tinubu of the All Progressive Congress (APC) won. The APC is the party of Muhammadu Buhari, the incumbent president. The APC also won more than half of the seats in parliament. In state elections, which were held a few weeks later, APC candidates fared well too. Most state governors belong to the party.
Nonetheless, Tinubu does not have a strong mandate. Despite 24 years of uninterrupted democracy, this oil-rich nation continues to suffer violent conflicts and crime. The economy is weak, unemployment is high and infrastructure is poor. Nigerians are hungry for law and order, integrity and a leader that might unite the country. Especially young people hoped they would see change.
Tinubu officially got 37 % of the vote, while the second most successful candidate, Atiku Abubakar of the People's Democratic Party (PDP), got 29 %, and third-placed Peter Obi of the Labour Party got 25 %. Voter turnout was surprisingly low at 29 %.
In view of technical glitches and evidently incompetent management of the presidential election (see my privious essay), many Nigerians do not trust the official results. The two main opposition candidates have filed court suits, calling for the election to be declared null and void. Judges in Kenya and Malawi have done that in the past, and many voters hope that may happen in Nigeria too. Feelings about the judiciary are mixed however. Its integrity declined during the Buhari administration, as cases of corrupt judges and biased judgements stayed unchecked.
Damaged personal reputation
Tinubu expects to be sworn in on 29 May. No matter how the judges will decide, his personal reputation is damaged however. He claims to be in his seventies, but some suspect he is older. He has a reputation of being linked to criminals and corrupt officials. Moreover, the stain of having won a flawed election without an outright majority will stick even if judges dismiss the opposition's accusations of wrongdoing.
Nigeria is a highly diverse country. Deep fault lines run along religious and ethnic affiliations. Depressingly, the APC has a pattern of stoking related animosities. In view of lingering insurgencies in the north as well as the Niger Delta, that is very dangerous. It matters that both Tinubu and his vice-president-elect, Kashim Shettima, are Muslims, whereas only about half of Nigeria's people belong to their faith. The current coherence of the APC can fast prove elusive. If and when problems escalate, however, some of the party's policymakers cannot be expected to stay loyal to Tinubu and Shettima.
Buhari was president for eight years. During that time, things kept deteriorating. His predecessor Goodluck Jonathan was also a disappointment. His government too was known for corruption and abuses of power.
Barry Andrews, who led the EU's observation mission during the elections, has mentioned failure of political elites, many Nigerians' disappointment and the resulting voter apathy. He declared on Nigerian TV that "it is difficult to point to progress in terms of democracy in Nigeria". By contrast, the USA and China have sent congratulatory messages to Tinubu after the presidential election. However, the US embassy also admonished the election commission to shore up its act before the state elections.
Nigeria's partner countries in the Economic Community of West African States (ECOWAS) are happy that the country, so far, has not blown up – they are content that the future of their regional block was not a controversial issue in the election campaign.
Adaze Okeaya-inneh is a journalist and screenwriter in Lagos.
adazeirefunmi@gmail.com
Correction 24 April, 9:30 pm Frankfurt time: "previous president" was changed into "incumbent president" - after all, Buhari is still in office.