Solar energy
Power from the sun
As chronic droughts erode Zambia's hydropower-based energy supply, the country is turning to a more reliable renewable fuel: sunshine.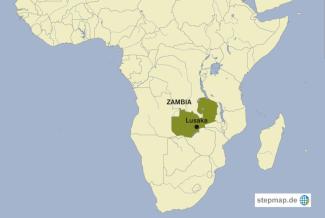 stepmap.de
It is a natural alternative for a country that benefits from year-round sunshine. Zambia has an average 2,000 to 3,000 hours of sunshine per year and an average irradiation of 5.5 kilowatt-hours per square meter per day.
Zambia's shift to solar is not new, but is accelerating as a result of the crisis in hydropower (also see my contribution in D+C/E+Z e-Paper 2020/05, Focus section). Zambia's Rural Electrification Authority (REA), which is tasked with electrifying rural areas, so far has undertaken 423 solar home system projects in rural communities.
The first such project, completed in 2013, set up a solar mini-grid in Luapula province, supplying electricity to 480 households, a school, a health centre and the harbour. The REA built two more such mini-grids in 2016 in Central and Luapula provinces.
In developing solar generating capacity, Zambia is part of a pan-African trend. The African solar photovoltaic market could grow to as much as 30 gigawatts by 2030, doubling the current capacity, according to a 2019 report by the German Solar Association (BSW-Solar).
A range of outside investors is aiding Zambia's shift to solar power. GET.Invest, for example, mobilises investments in decentralised renewable energy projects. It is a multi-donor platform supported by the European Union, Germany, Sweden, the Netherlands and Austria.
The World Bank's "Scaling Solar" programme also mobilises private funding for solar generating projects. The Swedish government's Beyond Grid Fund for Zambia cooperates with Zambian partners to increase energy access and develop energy service markets.
The shift to solar is giving rise to a related industry in solar-based appliances for homes, farms and other businesses. Urban shops and market stalls sell a wide range of solar-powered appliances, including water pumps, radios, power-supply banks, telephone chargers and lights.
Shopkeepers say that business is booming. "Demand for solar related products has gone up here ever since power blackouts started," says Andrew Chibwe, a shop owner at Mtendere market east of Lusaka. "Given more capital to expand, I will make more money."
The same is true in rural areas. David Chimuku, a resident of Mumbwa district, supplies solar-powered farm tools such as water pumps to farmers in central Zambia who depend on irrigation to grow vegetables. "Selling solar-powered equipment has given me an edge," he says. "I started small but now I have opened two outlets selling various solar tools."
The customers are equally impressed. "I cannot believe how solar energy has improved my life after years of living without electricity at my farm," says Daniel Kandimba, 55, a farmer in the Mumbwa district, 160 kilometres west of Lusaka. He and other farmers have invested in solar powered equipment including lighting, drilling machines and farming implements.
Compared to the demand, the pace of building solar energy plants is modest; according to GET.Invest, only 28 % of Zambians have electricity. But the new power projects are transforming lives. "I never expected to have electricity in my house during my life time," says farmer Daniel Kandimba. "I thought perhaps this would happen during my great grandchildren's time."

Derrick Silimina is a freelance journalist based in Lusaka. He focuses on Zambian agriculture and sustainability issues.
derricksilimina@gmail.com