Chilli farming
A hot spice for a hot market
African bird's eye chillies – the small, thin, pointy peppers that are red when they mature – are spicing up farmers' businesses in Gokwe, an agricultural region in central Zimbabwe.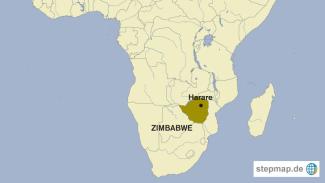 stepmap.de
These chillies, also known as Thai chillies, are used extensively in Asian cooking as a spice to give dishes a fiery zing. They are also popular in many other regions of the world. These chillies are hot – in more ways than one. To begin with, a bird's eye chilli is about 15 times hotter as a spice than the average jalapeno. It has between 50,000 and 100,000 Scoville Heat Units compared to 2,500 to 8,000 for a jalapeno.
These chillies are also hot in a business context. For farmers, they bring in much higher revenues per kilogram than other crops grown in the region. "So far this season I have harvested 400 kilograms (kg) of chillies, which I sell for US$ 2.5 per kilogram, so I have earned US$ 1,000 ," says Nicholas Seremwe, a farmer from Muse village in Gokwe South.
By way of comparison, the previously dominant cash crop in the region, cotton, brought in US$ 0.43 per kg in the 2020/21 marketing season, down from US$ 1.51 per kg in 2017. Other local cash crops – such as cowpeas, maize and sorghum – also fetch lower per-kilogram prices than bird's eye chillies. 
The local business in bird's eye chillies started with a boost from international donors. Along with about 2,000 other local smallholder farmers, Seremwe supplies chillies to Agricultural Business Center (ABC) Gokwe, which operates with financial support from donors including the German NGO Welthungerhilfe.
Each farmer cultivates a minimum of 1,500 chilli plants, harvesting them between February and July. ABC supplies the plants and farm inputs and manages the marketing of the produce. The market potential is promising. The global trade in dry chillies is valued at US$ 942 million in 2021, according to India-based market research firm 360 Market Updates. The leading importers are Vietnam, Thailand, Sri Lanka, Spain and the USA, which together account for two-thirds of global dry chilli imports.
The biggest global exporters of dry chillies are India, China and Peru. In Africa, other nations producing bird's eye chillies – in addition to Zimbabwe – are Kenya, Ghana, Uganda, Morocco, Zambia, Mozambique and South Africa. Zimbabwe is among the smaller African producers, currently exporting chillies only to the United Kingdom and Finland. 
But ABC Gokwe has big plans for the future. "We are connecting farmers in Gokwe with local markets and we are also working on expanding their market reach to other countries such as Germany," says Vernon Mushoriwa, general manager of ABC. The NGO works with ZimTrade, Zimbabwe's trade promotion agency, to find international markets.

Farai Shawn Matiashe is a journalist in Mutare, Zimbabwe.
matiashefarai@gmail.com