Food industry
Profit prioritised
According to the latest report on world hunger published by the Food and Agriculture Organization (FAO), 3 billion people around the world cannot afford a healthy, balanced diet. This flags up the need to overcome not just hunger in the narrow sense, but malnutrition as well. The depressing truth, however, is that food manufacturers are systematically undermining efforts to promote healthy eating.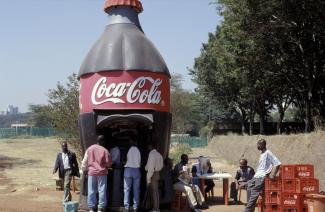 Ron Giling/Lineair
Nutrition is a highly competitive policy area. Relevant players include UN agencies, governments, private-sector companies and civil-society organisations. They pursue diverging interests and offer a broad variety of solutions. Policy proposals range from piecemeal approaches like fortifying food with micronutrients to holistic strategies. The latter aim to overcome the structural causes of hunger and malnutrition by promoting healthy food systems. For example, land reforms and support for smallholder farmers can result in food products that allow for varied and healthy diet.
One in three people in the world suffer from some form of malnutrition: undernutrition, overnutrition and/or one or more of the micronutrient deficiencies collectively known as "hidden hunger" (see articles by Simone Welte and Sabine Balk in D+C/E+Z e-Paper 2020/11, Focus section). Transnational corporations are playing a problematic role as they want to increase their market shares in low and middle-income countries.
In pursuit of their business interests, Nestlé, Coca-Cola and Unilever keep adjusting their products' prices so a large section of the world's less affluent can afford them. Many people still consume food that they produce themselves or buy in small, local markets. On the other hand, low-quality highly processed food products are increasingly becoming available in both urban and rural areas. Often, it really is just junk food. Consumers may think they are choosing from a variety of products, but the meals' content is largely confined to a few cheap ingredients such as saturated fats, oils, refined starches and sugar. Thanks to advertising and sophisticated marketing, such products are consumed even in villages.

Milk powder instead of breast milk
In the early 20th century, Nestlé developed a global market for products based on dried milk. They included breast milk substitutes. The consequences for the health of many children in countries of the global south were dire. In 2010, the World Health Organization (WHO) pointed out that 1.5 million children's lives could be saved every year if women breastfed more and longer, provided that complementary feeding was improved as well. That is still not happening, and one reason, according to the WHO, is the inappropriate marketing and promotion of breast milk substitutes.
An investigation by Save the Children, an international non-governmental organisation, revealed that six companies market such substitutes and other baby foods very aggressively. They are Nestlé, Danone, RB, Abbott, FrieslandCampina and Kraft Heinz.
The sale of soft drinks is a similarly lucrative business. In 2019, the Coca-Cola Company generated worldwide revenues of around $ 37 billion. Coca-Cola and PepsiCo are the market leaders – including in Mexico, the country with the highest carbonated soft drink consumption. Around 70 % of the sugar that Mexicans consume is contained in soft drinks.
Since the 1990s, the Mexican food system has undergone major changes, resulting in a disproportionate increase in malnutrition, obesity and diabetes. Sales of industrially processed food – including bakery products, dairy products, snacks and junk food – have risen by five to 10 % a year. Small traditional grocery stores have disappeared, while supermarkets and discount stores have mushroomed.
Seven out of ten adults in Mexico are overweight or obese. That is also true of 30 % of children and adolescents. At the same time, one in eight children under five is chronically undernourished. Children in poor rural regions are particularly affected. According to estimates, more than 40,000 deaths a year are linked with the consumption of sugar-sweetened drinks. Diabetes and obesity make the Mexican population particularly vulnerable to Covid-19, for example. The National Institute of Public Health reports that a third of the pandemic fatalities were diabetic and 25 % were obese.
In a bid to curb the consumption of soft drinks, Mexico became the first American country to pass a law taxing drinks containing added sugar. The law went into effect in January 2014, making a litre of sugary drinks one peso more expensive. That was equivalent to a 10 % price increase. The WHO and other organisations had recommended a tax rate of at least 20 %. The low rate set in Mexico was due to pressure from the industry (see Sonja Peteranderl in D+C/E+Z e-Paper 2017/06, Tribune section, and interview with Alejandro Calvillo in D+C/E+Z e-Paper 2018/03, Focus section).
Revenues from the tax are supposed to be used for preventive action. That includes, for example, installing 40,000 drinking fountains in schools. So far, however, only 11,000 fountains are in place. Following Mexico's example, 23 more countries and eight US cities have introduced taxes on sweetened drinks. Not all attempts have been successful, however. In Colombia, a proposed tax failed in the face of opposition from the beverage industry.

Political influence
In recent years, agribusiness and food-industry groups have increasingly established themselves as cooperation partners in the "fight against hunger" and as crucial players in global food policy. Companies such as Bayer, Monsanto, Nestlé or PepsiCo have gone beyond just lobbying to influence governments and supranational organisations like the WHO or FAO. They are involved in the committees where food-policy decisions are taken. With governments and UN agencies increasingly strapped for cash, they are increasingly willing to cooperate with private-sector corporations that command ample funds. Possible conflicts of interests are largely neglected, though they obviously arise when public institutions cooperate with profit-maximising enterprises.
The Bill & Melinda Gates Foundation plays a role as a door-opener for big business. It initiates alliances, especially so-called multi-stakeholder platforms, which convene both policymakers and corporate managers. One example is the Global Alliance for Improved Nutrition (GAIN). It cooperates with 600 private enterprises worldwide, finances public-private partnerships and actively lobbies for the harmonisation of national policies on food fortification.
GAIN hails food fortification as the "most cost-effective means of combatting malnutrition". This claim goes along with demands for more public money to be spent on fortification programmes. In 2012, GAIN tried to stop a sensible initiative of Kenya's government. The idea was to introduce strong regulations on artificial baby food in the Breast Milk Substitutes (Regulation and Control) Act 2012. In a policy briefing, GAIN sought to weaken the bill, arguing that the legislation would present an obstacle to implementing Kenya's commitments as a member of the Scaling Up Nutrition (SUN) initiative.
SUN was launched in 2010. It pursues a similar agenda to GAIN, except that it does so on behalf of and with the authority of more than 50 governments plus UN organisations such as UNICEF, the World Food Programme (WFP) and the World Health Organization (WHO). The World Bank is involved too. In 2012, GAIN and WFP established the SUN Business Network to promote private sector involvement in SUN.
More than 400 companies are now active in the SUN Business Network. The declared goal is to reach a targeted 1.3 billion people between 2013 and 2020. BASF, the German multinational, is a member and has undertaken to supply 60 million people a year with fortified staple foods. Hexagon Nutrition, an Indian corporation, aims to distribute 100 million packets of micronutrient powder in Asia, Africa and Latin America.
A study by the human-rights organisation FIAN, which scrutinised SUN's work in three countries, concluded that SUN helps the private sector influence public policies concerning food and nutrition. Governments are encouraged, for example, to implement mostly short-term, technical interventions that benefit private enterprises. There is thus a risk of governments abandoning strategies that address the root causes of hunger and malnutrition, such as poverty, discrimination, low wages, exploitation, land grabbing and misleading marketing of food.

Sarah Schneider is an advisor on food and agriculture for Misereor, a Catholic development agency based in Germany.
sarah.schneider@misereor.de

Armin Paasch is an advisor on business and human rights for Misereor.
armin.paasch@misereor.de