Climate finance
African action
Africa is the world region that is most vulnerable to the impacts of global warming. The continent's countries have contributed to bringing about the Paris Agreement and they are eager to implement their nationally determined contributions to adapt to – and mitigate – climate change. They deserve support from the nations that have caused the phenomenon. Donor governments must live up to their promise of providing climate finance worth at least an annual $ 100 billion from 2020 on.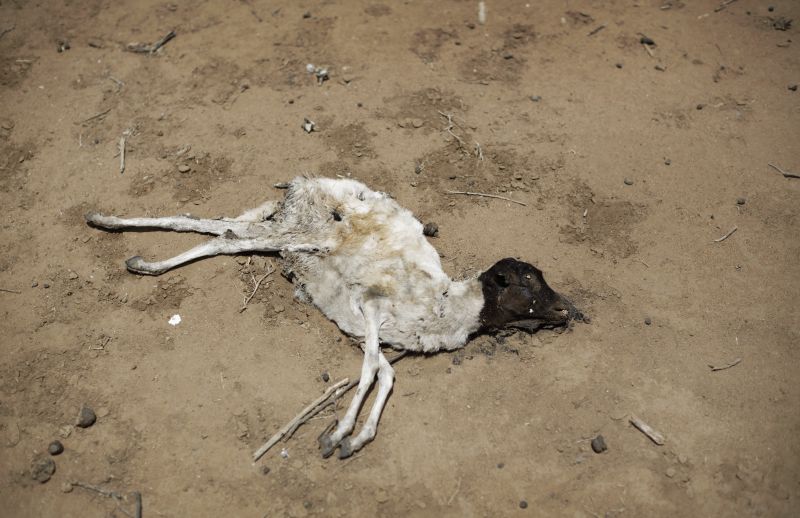 picture-alliance/dpa
Twenty-five years after the Rio Earth Summit in 1992, sustainable development remains elusive for many African countries. In 2015, the target year set to achieve the Millennium Development Goals, 70 % of the continent's population still lacked access to improved sanitation facilities, 41 % lived on less than the purchasing power of $ 1.25 a day and 33 million of the 57 million of global out-of-school children of primary-school age lived in sub-Saharan Africa. 
In view of these grim statistics, the year 2015 saw renewed commitments to make progress. The UN adopted the 2030 Agenda for Sustainable Development as well as the Paris Agreement of the Framework Convention on Climate Change (UNFCCC). Moreover, the African Union (AU) adopted the Agenda 2063, a strategic framework for the socio-economic transformation of the continent over the next 50 years. The Agenda 2063 builds on – and seeks to accelerate – the implementation of past and existing continental initiatives.
The Paris Agreement is designed to steer all continents on to a low-carbon and climate-resilient development pathway. Two years on, one needs to know if we are on the right path and what must happen next. 

The Paris Agreement 
The Paris Agreement grants parties the flexibility to make their own choices on how they will contribute to the fight against climate change. All parties were required to submit voluntary Intended Nationally Determined Contributions (INDCs) ahead of the 21st Conference of UNFCCC Parties in Paris in November 2015. Of the 54 African countries, 53 prepared and submitted INDCs in time for the adoption of the Paris Agreement. Since then, over 50 % of African countries have ratified the Paris Agreement and adopted their Nationally Defined Contributions (NDC), helping to bring the Paris Agreement into force substantially sooner than parties expected. This was another strong sign of parties' willingness to commit to the new global climate regime.
The NDCs amount to a strategy for developing countries to restructure their economies and livelihoods in more sustainable ways. The idea is to leapfrog to low-carbon and climate-resilient futures.
African NDCs have prioritised selected sectors. For adaptation purposes, these are agriculture, land use and forestry, water, energy, wetlands and infrastructure. For mitigation purposes, the focus is on energy, land use and forestry, agriculture, waste, industry and transport.
The INDCs of developing countries, including those of Africa, have two kinds of targets. The first are unconditional and the countries have committed to meeting these with their own resources. The second are conditional targets that can only be met with the provision of adequate support. Developing countries deserve adequate financial, technical and capacity-building support from the developed countries as well as the more prosperous developing countries. Those who have caused global warming must support those who must suffer its impacts.
Support is crucial. Africa is certainly the most vulnerable world region and already bearing the brunt of the adverse impacts of climate change. Whilst several African countries have mainstreamed their NDCs in their national policymaking and are implementing the unconditional aspects of their NDCs, Africa received just three percent of global climate finance by 2016.
Financial support has been very limited, resulting in significant climate-induced public expenditure displacements. A severe drought has recently hit southern Africa, so Mozambique had to reallocate the equivalent of $ 13.1 million to drought response. It faces a financing gap of $ 191 million. Lesotho spent the equivalent of $ 12 million from its development budget on drought response and expects a one percent fall in GDP. Other African nations are struggling with the massive impacts of climate change too. 
Two significant African initiatives were launched by Africa's heads of state and government at COP 21 as part of the Paris Agreement: the Africa Renewable Energy Initiative (AREI) and the Africa Initiative on Adaptation (AIA). The goal of AREI is to pave the way for Africa's transition to inclusive green growth. Developed country partners pledged over $ 10 billion to implement renewable-energy projects in Africa. Two years later, however, this initiative is yet to receive the promised funding to deliver projects on the ground. AIA is similarly still waiting for money for its implementation. The success of an initiative like the AIA would go a long way in reducing the current climate-induced hunger and famine in Africa.
Unfortunately, the talk of providing resources to meet the conditional NDC targets of developing countries has dimmed. It is estimated that African countries require at least $ 2.7 trillion for mitigation measures and another $ 488 billion for adaptation to climate change by 2030. The magnitude of the need makes the long-term goal of mobilising $ 100 billion in donor nations for climate action in the developing world seem like a drop in the ocean.
Without concerted action, the window of opportunity to avert dangerous climate change and related impacts is closing fast. It will become increasingly difficult to restructure economies as old technologies are locked in to long-lived assets such as power, industrial and transport infrastructure. Adding to the pressure, Africa's population is projected to increase by more than 80 % to 2.2 billion by 2050. Production and consumption must increase accordingly, raising the stakes for all concerned.
Several initiatives have been set up in support of the implementation of developing countries' NDCs. One example is the NDC Partnership, which is funded by the governments of Germany, France, the Netherlands, Denmark and Britain. With 58 member countries and support from the multilateral development banks and UN bodies, the NDC Partnership is engaging with developing countries' ministries that are in charge of international climate issues as well as national economic and development planning. Since its launch at COP 22 in Marrakech last year, the NDC Partnership has already prepared searchable databases and toolkits to help governments strengthen NDCs and access funding sources to help find finance.
Moreover, the Agence Française de Développement has launched a new € 30 million facility to assist NDC implementation in 15 developing countries. This new NDC Facility will help countries to strengthen their climate governance to ensure they effectively implement their NDCs, conducting capacity-building activities for all actors and in all territories. It will also help them to translate their NDCs into sectoral policies, combined with concrete action plans focused on key climate-change sectors. Finally it will provide support for designing  transformational climate programmes and projects with a priority focus on adaptation. Action will be based on a robust analysis of vulnerabilities, adaptation solutions and options for controlling uncertainties. 
Several African countries stand to benefit from these two initiatives.

The need for further action
For Africa, four things are crucial:
The ratification of the Paris Agreement is an important first step in addressing the global climate-change challenge. Countries which have not yet ratified, especially the high-emitting countries, need to do so. Moreover, all countries must implement their NDCs. These commitments are at the driving force of the Paris Agreement. The withdrawal of the US from the Paris Agreement is a major disappointment as it sends the wrong signal to emerging markets on the need to curb greenhouse-gas emissions. It is hoped that other developed-country leaders will get the US back on track to play a leading role in the fight against climate change.
Africa is not seeking charity but expects the developed countries that have caused global warming to honour their commitments to support vulnerable countries. Most important is that the developed countries have pledged to raise for this purpose an annual $100 billion of public and private-sector funding per year from 2020 on. This is the sum that was agreed at COP 15 in Copenhagen and the minimum they must deliver. It is already obvious that much larger sums are needed to keep global warming at or below the limit of an additional two degrees.
Global solutions to addressing climate change must respect the need for climate justice and developing countries' right to development. They have contributed very little to the problem. Developed countries and private-sector partners must join hands with African countries to ensure that Africa's public budgets are not distorted by climate related expenditure. Such spending has begun to crowd out other important budget items. Unless international climate finance is made available fast, Africa can neither achieve their NDCs nor the 2030 Agenda's Sustainable Development Goals (SDG).
Finally, Africa needs to build capacity to increase resilience to climate-disaster risks. This is why the African Risk Capacity (ARC) was established as a specialised agency of the AU (see D+C/E+Z e-Paper 2016/12, p. 20). The ARC uses modern finance mechanisms that combine risk pooling and risk transfer to create a pan-African climate response system. It is basically an insurance scheme that covers the burden of weather risks, enabling governments to build resilience. It allows them to better plan for and respond to extreme weather events. Unfortunately many African countries are unable to pay their premiums. Risk insurance is an important part of adaptation to global warming. Global climate finance must support African countries appropriately, and that includes the payment of ARC premiums. The ongoing famine in Kenya shows how Kenya is suffering for its inability to pay its premium. 
The Paris Agreement is the most far-reaching treaty ever agreed by humankind. But the work is only just starting and today's NDCs, though remarkable, merely represent the first steps of a long journey. We must act now to redeem our commitments at COP 21, including the commitments to mobilise resources for AREI to enable it fast track the implementation of projects already identified across Africa. In this context, the African Development Bank is rising to its duties (see box).

Anthony Nyong is the African Development Bank's director for climate change and green growth.
a.nyong@afdb.org
http://www.afdb.org