Climate finance
The role of the African Development Bank
The Climate Change Action Plan of the African Development Bank (AfDB) foresees the implementation of several initiatives. Such action will ensure that the African continent, which is suffering devastating impacts of climate change, will not be short-changed by climate finance.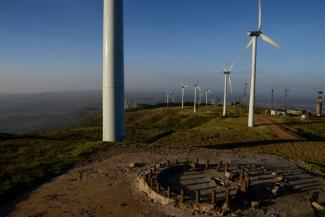 Böthling/Photography
The AfDB supports African countries in implementing the Nationally Determined Contributions (NDCs) that they have adopted in the context of the Paris Agreement. It also facilitates their access to global climate finance. The Bank has committed to allocating 40 % of its annual funding to climate-related measures. Moreover, $ 12 billion of the AfDB's own resources will be invested in the energy sector. It is expected that another $ 50 billion from other partners will thus be leveraged. This policy demonstrates the multilateral development bank's resolve to support Africa's transition to climate-resilient, low-carbon development.
On top of all this, the AfDB is currently establishing the Africa Regional NDC Hub. It will:
serve as a repository of current and planned initiatives,
act as a focal point for identifying and sourcing financial support,
share knowledge and best practice,
support capacity development, including legislative ones,
promote technology transfer to take advantage of the falling costs of renewables,
drive the large-scale shift to renewables,
monitor the action of various partners and parties,
track and report on financial transactions and 
establish an investment forum that will support the development of bankable projects.
The AfDB is committed to making the Paris Agreement work. Climate change is the greatest challenge the continent is facing. If we do not rise to it, all other problems will only get worse.