DBL Group
"We are growing dynamically"
DBL Group is a knit garments producer based in Bangladesh. Its customers include global brands such as H&M, Walmart, C&A, M&S, Esprit and Hugo Boss. DBL has over 42,000 employees of whom 14,700 are female. In our interview, managing director M. A. Jabbar assesses what impacts the Covid-19 pandemic has had on the industry and what changes technology will bring.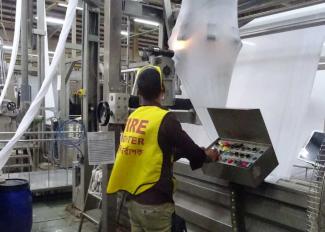 SB
How did Coronavirus affect your business and have you recovered from it yet?
The Covid-19 pandemic was as difficult for us as it was for the rest of the world. The initial months of lockdown hit us hard. However, our resilience shone through as we were able to successfully continue with our expansions in different operations. We were also able to receive support from the government of Bangladesh which provided a stimulus package to organisations across the country in response to the pandemic. Despite Bangladesh's total exports falling by more than 18 % in the fiscal year 2019-20, DBL Group was able to increase exports by more than six percent. In 2020-21, the trend was even better, with our exports increasing by almost 55 %. Our revenue achieved an all-time high in 2020-21. Not only have we been able to survive, but we are growing dynamically.
How has textile production changed in Bangladesh in the past decades?
There were significant changes in the past decade (for deeper inside in the Bangladeshi textile industry see Sabine Balk on www.dandc.eu). The big priority in the first half was health and safety. Next came commitments to various social and environmental sustainability initiatives. Our industry depends on buyers. To stay in business, companies must live up to the sustainability pledges international brands make to final consumers. On the social side, decent work in the supply chain has become more important. It includes fair wages, skills development and even community engagement. On the environmental side, focus areas include reducing carbon emissions and improving waste management. Responsible consumership is attracting increasing attention, and we have seen the demand for recycled products increase significantly in the past two years.
Is automation increasing?
Well, we are using some automation in our own supply chain. For example, the machines of DBL Group's spinning mill have programmable logic control, which automatically adjusts the revolutions per minute. In our fabric-dyeing plant, automatic temperature-adjustment controls are embedded in the machinery. We also use laser technologies in our washing plant. These technologies optimise both energy and water usage. More generally speaking, the sweater and heavy knit industry has been fully automated in Bangladesh.
How much manual work is still needed – and how much will be needed in the future?
The processing of raw materials – spinning, dyeing and printing – does not require very much human intervention, but apparel manufacturing is very labour intensive. Cutting, sewing, finishing and packaging are mostly done by hand. There has been some automation in these areas, but change has not been as significant as in other countries so far. There certainly is scope for further automation in manufacturing. Industry 4.0 means moving on from handwork to automation. Furthermore, there will be less wastage in manufacturing as rejection rates are being lowered.
Does that mean you will need fewer workers?
Perhaps we might need fewer workers in the future, but new opportunities are arising too. We will need additional skilled workers who can handle the advanced machines. Upskilling is necessary, both to avoid mass unemployment and to ensure a smooth transition. Industry-based training centres are running related courses, and we are engaging with them. Initiatives of this kind help workers to adapt to future technologies and reduce unemployment. Moreover, many women who took part in our company's female leadership programme now work as supervisors, so their job opportunities have improved. One of them left to join a non-governmental organisation that is providing skills training and making other efforts to boost women's employment opportunities.  
What implications will automation have for achieving the Sustainable Development Goals (SDGs)?
There will be multiple implications. On the social side, better training will result in people having advanced skills so their opportunities improve – not just in the textile industry, but other industries as well. This will address SDG4: Quality Education. On the environment side, production processes will be more efficient, optimising resource use and reducing wastage, which is directly linked to SDG 12: Responsible Consumption & Production (see my interview on www.dandc.eu). However, there may be a negative impact of unemployment during the transition towards further automation. So SDG1 – No Poverty – may see a setback.
How is international competition changing?
China is still the largest exporter of apparels, and some countries are making fast progress. Vietnam is now neck-and-neck with Bangladesh. Producers there are good at technological adaptation.
Are you involved in African production lines?
Well, we did indeed invest in Ethiopia, in Mekelle, the capital of the Tigray Region. However, the operation had to be suspended in the current conflict.
How do you assess the situation for your industry in next decades?
The potential for improvement is great. Prudent investments are required, especially in regard to automation. Skills development is essential, and related investment will not just benefit manufacturers, so it should be done in collaboration with multiple stakeholders. The World Economic Forum has suggested that upskilling should happen in a collaborative approach that involves brands, agencies and technology providers apart from manufacturers.  

M. A. Jabbar is managing director of DBL Group.
jabbar@dbl-group.com