Urbanisation
Road to riches
In many developing countries, policymakers tend to ignore small and mid-sized towns. But such municipalities usually grow quickly, while their outdated infrastructure fails to keep pace. There is an urgent need to solve the resulting bottlenecks. Tamale in northern Ghana provides a good example.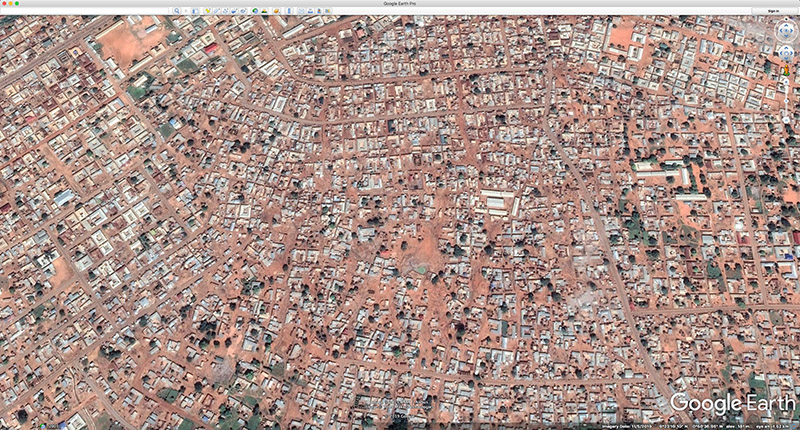 Screenshot: google earth
From a glance at the roads in and around Tamale, a town of 360,000 people in northern Ghana, you wouldn't guess that it is considered the fastest-growing city in West Africa. Roads are rutted and poorly maintained. Vehicles of all types break down regularly due to deep potholes. Muddy conditions are typical of rainy seasons. Travelling at night is doubly hazardous, as many street lights do not work.
And yet Tamale is emerging as a regional economic hub, linking farmers in the surrounding communities to markets in the south of the country and also facilitating trade with Togo to the east and with the landlocked Burkina Faso to the north. Tamale is also strategically located to serve as a hub for trade between Ghana and other member states of the Economic Community of West African States (ECOWAS), including Niger, Nigeria, Mali and Côte d'Ivoire.
Tamale is Ghana's third-largest city in terms of population size, behind Accra and Kumasi. Because of its dominant role in the northern part of the country and the trading opportunities that position creates, the city offers a perfect example of how good infrastructure can boost a region's economic growth.
The World Bank recognised the city's economic importance by awarding $ 150 million in loans in 2017 to improve the region's roads. The funds are intended to upgrade the main road between Tamale and Tatale on the eastern border with Togo, plus about 200 km of feeder roads linking the surrounding agricultural districts to urban markets.
In addition, Ghana has contracted with Sinohydro Corporation of China to build a traffic interchange to ease congestion in the city. The Tamale Interchange Project, which includes building 10 km of surrounding roads linked to the new interchange, could be completed by the end of 2021.
Such projects – and attention to transport infrastructure in general – are sorely needed. So far, Tamale's potential as an economic hub has been seriously eroded by dilapidated transport links. Better transport links would improve farmers' access to markets and facilitate business activity of all kinds. Conversely, clogged and lawless roads can slow economic growth to a crawl.
The tourist industry offers a cautionary tale. Anakin, a tourist from the Netherlands, experienced far worse than potholes during a recent trip to Tamale. "Armed robbers attacked our car and took our money and phones," he says. "This happened where the road wasn't good and the driver had to slow down." Due to poor road conditions and a related spike in crime, some tourists are avoiding historic sites such as the Salaga slave market near Tamale.
Crimes that were not previously known to this town are on the rise, and part of that increase is due to poor road conditions. "We used not to have crimes like kidnapping and car hijacking, but now we have it all around us," says Dauda Ali, a Tamale resident.
But even without crime, the roads in and around Tamale would still be treacherous. A combination of road congestion and impatient, aggressive drivers makes the roads chaotic. Pedestrians often cross streets without checking for oncoming cars. Stray animals obstruct the roadways.
The lesson is clear: small but strategically located cities like Tamale can be key players in boosting regional economies only if their infrastructure keeps pace with their growth. This holds true for other fast-growing small cities across Africa and in South Asia, Southeast Asia and Latin America as well.

The daily grind
Abdul Ganiyu Mahama drives his motorised tricycle carefully and slowly, trying unsuccessfully to avoid potholes on the road between Kpalsi, outside Tamale, and the centre of town. The tricycle – the main asset of his delivery business – breaks down regularly. "Every week I go for repairs about four times. You have to always drive with caution. It slows down the business. There are places I will not go to because the roads are not safe," he says.
He is not alone. "Getting farm produce to the market from farmers in remote areas on roads that are rarely maintained is not easy," says Mariama Abubakari, a grain trader.
"The problem gets worst in the rainy seasons because no truck can move on such roads," she adds. "Most drivers won't use such roads because of their defects, and those that do use them will charge high prices because of the high probability of breakdowns. At the end of the day you will have spent almost all your revenue on transport."
Ghana's Ministry of Highways agrees that improvements are needed. According to the ministry, up to 61 % of roads in Ghana are in bad shape. The country will need up to 10 billion Ghanaian cedis (approximately € 1.6 billion) to repair its roads.
It doesn't help that responsibility for Ghana's roads is divided between three agencies: the Department of Urban Roads for city streets, another agency that deals with feeder roads and a third, the Ghana Highways Authority, which deals with intercity arteries. As is typical of many developing countries, municipal and metropolitan authorities hardly have a say in local infrastructure matters. That is a destructive legacy of colonialism. Under foreign rule, all important decisions were taken in the capital city.
It also doesn't help that the Tamale region lacks a modern international airport capable of handling large volumes of goods, nor that many structures were built in the region without permits, thereby hindering land-use planning.
The essence of the transport problem, however, is that many of Tamale's roads – both those in the city and those linking it to other cities – were built several decades ago to suit the population's needs at the time. As the population and traffic increased, the road network remained static.
Moving people and goods on congested roads is part of the challenge. Another problem is the crime that breeds when conditions are chaotic and police supervision is inadequate. "There is poor security here," says Mohammed Kande Ruth, a garment seller in central Tamale.

Maxwell Suuk is a journalist in Ghana.
Twitter: @MaxwellSuuk