South Asia
Rule-bound governance matters
Under Prime Minister Narendra Modi, violation of human rights and suppression of dissent are becoming normal in India. International non-governmental organisations (INGOs) are finding it ever more difficult to work in this country of more than 1.3 billion people. Governmental and multilateral providers of official development assistance (ODA) should reconsider their stance.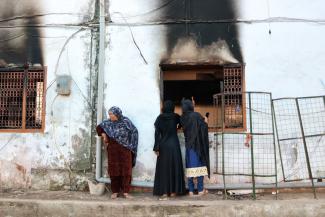 Mattoo/picture-alliance/ZUMAPRESS.com
India has a long history of INGO engagement. Their work tends to focus on marginalised groups, including women, for example, as well as Dalits, Adivasis or Muslims. INGOs have been critically perceived by previous governments, but the Modi government is taking things further. In particular, it radically restricted their funding channels under the Foreign Contributions Regulation Act (FCRA). The offices of globally active civil-society organisations such as Amnesty International or Greenpeace have seen funding cancelled. Moreover, their offices were raided with the pretext of law enforcement.
According to the government, foreign NGO funding was reduced by about 60 % from 2014, when Modi became prime minister, to 2017. Some 4,800 non-governmental organisations, most of them Indian ones, lost their license to operate in 2017 alone. Things will get tougher. The new Financial Bill 2020 requires NGOs to renew registrations every five years.
The current government is striving for Hindu supremacy ("Hindutva"). Its anti-minority policy affects Muslims most of all (see box by Arfa Khanum, Tribune section of D+C/E+Z e-Paper 2020/03) but other minorities as well. Christian organisations, for example, are facing harassment. Compassion International was accused of facilitating religious conversions and told to shut down.
The phenomenon of a shrinking space for civil society is currently evident in many countries, including, for example, Russia, Brazil or the Philippines. Inward-looking nationalists have a pattern of entrenching their power with aggressive identity politics, but not solving pressing problems of poverty or environmental destruction.
India's government has created a narrative according to which anyone who opposes it is anti-national and even a potential security threat. Since December, it has been facing an unprecedentedly broad-based and non-violent social movement that wants to uphold India's secular constitution, which forbids discrimination on religious and other grounds (see Arfa Khanum in Tribune section of D+C/E+Z e-Paper 2020/03). In response, Hindutva proponents have been using hate speech ("shoot the traitors"). The pogrom they launched in Delhi in late February claimed more than 50 lives (see blog post on our D+C/E+Z website).
India's economy is in a downturn. The recent insolvency of Yes Bank, a major private-sector outfit, is compounding the problems. International financial-market turmoil will certainly not help. Many Indians, including Hindus who do not endorse the government's ideology, fear that oppressive Hindutva action will make things worse.
India is a major recipient of official development assistance. Only a small share is channelled through INGOs. Financially more important providers include multilateral organisations such as the UN Development Programme or the World Bank and bilateral government agencies such as the Japan International Cooperation Agency (JICA) or the German development cooperation agency GIZ. They are only involved in politically sensitive issues like human rights or the rule of law to a limited extent because they focus on things like infrastructure, energy and climate protection. However, it is well understood that good governance is essential for related projects to succeed, so rule-bound governance must matter to them too.
For several reasons, they cannot withdraw from a nation with 14 % of the world population fast or entirely. To a large extent, moreover, ODA programmes are geared to global public goods such as the climate. On the other hand, multilateral and bilateral agencies' infrastructure funding gives the Modi government scope for pursuing other agendas.
International media have become aware of how dangerous Modi is and INGOs are not giving up the fight for equality and human rights. For diplomatic reasons, multilateral and bilateral agencies cannot spell out criticism in public, but if they told India's current leadership that they wanted to get more involved in governance issues, Modi and his cabinet might get the message.

Richa Arora is an Alexander von Humboldt fellow at the German Institute for International and Security Affairs (Stiftung Wissenschaft und Politik – SWP).
https://www.swp-berlin.org/en/