Building bridges
Why diaspora communities are powerful development actors
With over 272 million people living outside their countries of origin, the relevance of diaspora communities is growing. It is crucial for both the host countries and the countries of origin to engage with them.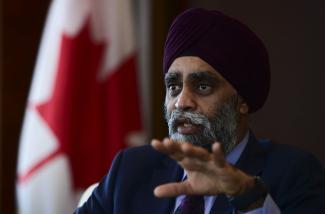 Sean Kilpatrick/picture-alliance/empics
Ijeoma Umebinyuo, the Nigerian poet, wrote a beautiful poem called Diaspora Blues. It goes like this:
So,
here you are
too foreign for home
too foreign for here,
never enough for both.
The poet spells out the struggle of diaspora members, as they try to find their place in the countries they call "home". However, leveraging the perspectives of two different worlds that the diaspora brings, they are bridge-builders and play a role in global development.
All international migrants represent cultures of their countries of origin in the way they interact with the host communities. Brick Lane in East London or Southall in West London are examples of South Asian communities' identities becoming a part of the host country. These neighbourhoods do not just offer special markets for the migrant community. They showcase how cultures interact with each other in the host country.
Cultural interaction also takes place in the country of origin. When diaspora members take a trip back to visit their families, they bring along a little bit of "the west". Various sociological studies have shown that successful migrants make the host countries look attractive, inspiring young people to start their journey abroad.
The power of diaspora, however, exceeds cultural representation. Diaspora members often engage in transnational politics, in the sense of campaigning for change in either or both countries. Relevant topics include migrant rights, labour rights (trade unionism) and human rights. They have a bearing on public discourse in host countries as well as the countries of origin.
For instance, the Armenian diaspora in the USA organised itself and led the fight for the official acknowledgement of the Armenian genocide of the early 20th century. As a result, the USA adopted a policy in the matter and began to channel funds to troubled communities in Armenia. Diaspora activism thus had an impact on both countries concerned. The contribution that diaspora members make in politics is also evident from the high-ranking positions that they hold as policymakers or ministers in countries like Canada, the USA or Britain.
Additionally, remittances are very important, for individual families as well as for national economies as a whole. One in nine people around the world depends on the money sent by migrants. In some countries, remittances amount to over 25 % of GDP, for example Tonga, Tajikistan and Nepal. Especially in times of crisis, diaspora communities never fail to raise funds and send money to their families or relatives in their countries of origin. Hence, the governments must do more to make sending money home easier for migrants and meet the SDG target of reduction of transaction costs to three percent (see Dilip Ratha in the Focus section of D+C/E+Z e-paper 2021/02).
Diaspora philanthropy is equally relevant. One of many examples is the Non-Resident Nepali Association's fundraising for relief efforts in the current Covid-19 pandemic.
Moreover, social remittances must not be overlooked. They include skills, knowledge and personal networks. In these ways, diaspora members contribute towards the economic and social development of the countries of origin. Sectors like health care, education and infrastructure have benefited a lot from such exchange. For example, the Africa Diaspora Network is a civil-society group that links migrants in the EU and has a bearing on policymaking in both Europe and Africa.
The soft power of the diaspora is being increasingly acknowledged in development circles. Global platforms like the Global Forum on Migration and Development have facilitated discussions between multiple stakeholders. Governments, civil-society organisations, scholars and international agencies have made important contributions, but more needs to be done to fully tap the potential of the diaspora for sustainable development.

Richa Arora is an Indian scholar who specialises in migration issues. She is currently living in Frankfurt and working for GIZ. This comment expresses her personal views.
richa.arora88@gmail.com