Blog
Gender implications of Covid-19
The Covid-19 crisis is disproportionately affecting women and girls. An OECD study argues that it may therefore hamper the achievement of gender-related SDGs. Governments should modify policies accordingly.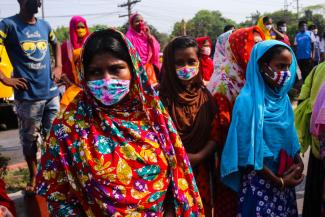 picture-alliance/Pacific Press Agency
The study identifies three main reasons why women are hit harder than men by the coronavirus pandemic:
They are often responsible for taking care of sick family members and children on top of unpaid housework. These duties go on during a lockdown, and actually get more burdensome.
Women are more likely to suffer economically as their incomes and employment are less secure. Moreover, industries that mostly employ women are likely to be affected more.
More women are likely to suffer domestic violence due to confinement measures.
The health care response to Covid-19 heavily relies on women. Worldwide, women make up almost 70 % of the health care workforce and about 85 % of nurses and midwives, according to the OECD. Hence, women are more likely to be infected while treating patients.
In addition, women work a "second shift" at home. According to the OECD, women spend about two hours per day more on unpaid work than men. As schools and childcare facilities close and people stay at home, women's childcare and housework burdens will increase.
According to the study, women's employment is often less secure than men's. In developing economies, many women work in the informal sector where they lack social and legal protection. Much informal activities take place in the streets and are discontinued during a lockdown.
Moreover, some industries which employ mostly women will be hit harder. For example, three-quarters of workers in the garment industry are women – up to 85 % in Bangladesh. They lose their income when factories and retail stores close.
On average, women's income and wealth are lower than men's. Thus, crisis-induced income loss may increase female poverty.
Violence against women is likely to spike during the crisis. With public spaces closed and people asked or forced to stay home, women and children have limited options to escape dangerous situations. Women often lack access to legal support. Lockdown restrictions exacerbate this problem. 
The OECD recommends specific policies.
Governments should provide support to parents doing essential work. Options include public childcare, direct financial support or the promotion of flexible work schedules.  
Governments should support workers facing job loss. Access to unemployment benefits and other social transfers should be extended and made easier. People in need could also be given one-off payments. Evictions from homes and utility or mortgage payments should be suspended.
Governments should provide support to victims of gender-based violence. They should make sure protective services are available and raise awareness for abuse being unacceptable.
The OECD insists that gender-specific data and research are needed. It points out that official development assistance (ODA) is essential in the pandemic response, but aid in the health-sector normally does not address gender inequality adequately. The OECD wants donors to work with women's rights organisations and movements that know the local context.
The OECD predicts that women's poverty levels, maternal mortality as well as adolescent pregnancies and related school dropouts will rise. Covid-19 is thus putting in jeopardy the achievement of gender-related SDGs.

Monika Hellstern is social-media editor at D+C/E+Z.
euz.editor@dandc.eu

Link
OECD, 2020: Women at the core of the fight against COVID-19 crisis.
https://read.oecd-ilibrary.org/view/?ref=127_127000-awfnqj80me&title=Women-at-the-core-of-the-fight-against-COVID-19-crisis