Illicit labour
Criminal girls
Not much is known about the gender dynamics of organised crime groups. Teenagers and children are often affected, as comparative research from Bangladesh and China shows.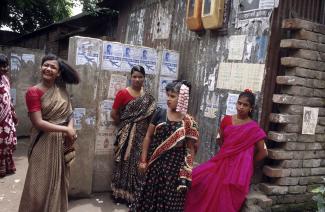 Shehzad Noorani/Lineair
At first glance, Bangladesh and China are very different countries. According to the World Bank's criteria, China is an upper middle-income country. By contrast, Bangladesh is the largest least-developed country according to UN classifications. Confucianism underpins Chinese culture, while Bangladesh is a majority Muslim country. Under colonial rule, Bangladesh was part of British India. While imperial powers exploited China in the 19th and early 20th century, the country was always nominally independent.
Yet there are similarities. Both countries faced fundamental change in the 1970s. Bangladesh won independence from Pakistan in a bloody liberation war in 1971. In China, the Cultural Revolution and Mao's leadership ended in 1976. Both countries also experience high levels of organised crime.
In Bangladesh, organised crime groups are led by "mastaans". These groups often operate in collusion with state agencies and offer social protection to those living in slums or on the streets. In China, organised crime groups also act in alliance with corrupt politicians and the police, providing illicit livelihoods to those who work for them.
In both countries, large numbers of children are marginalised. Street children are among the top social concerns in both countries. In Bangladesh, millions of children live on the streets or in slums. In China, street children tend to be migrants who have moved to cities in search of work and are denied the rights of people who are formally registered as residents of these urban areas.
It is important to consider the gender dynamics of criminal groups. The similarities between both places are interesting. Our research focused on organised crime in Dhaka and several places in mainland China. Typically, gangs mainly consist of male members, and the bosses are usually male. We found only one female boss, the wife of a Bangladeshi mastaan who took over the responsibilities for running the group.
In Bangladesh, it is boys and young men who are most likely to become embroiled in the lower echelons of crime groups. They conduct what I consider to be "illicit labour", engaging in a variety of criminal and violent actions on the streets. This kind of "work" is dangerous, but the young people involved in this illicit labour lack any other alternatives (see my contribution in the Focus section of D+C/E+Z e-Paper 2018/04).
Girls, on the other hand, are more likely to be involved in sex work and to become the victims of sexual exploitation. When girls do partake in illicit labour, it is largely in support of wider activities of crime groups, and the boys and men that work for them.
A social worker who works with street children in southern China described the differences between girls' and boys' experiences on the streets: "Because of the low education level and lack of professional skills, street children are very likely to engage in illegal activities." After dropping out of school, many girls make a living as prostitutes. It is not uncommon for their mothers to work in the sex business too. The social worker reported that some teenage boys and girls live together, renting cheap accommodations. "The girls sell their body, and boys steal and work for the older bosses." Similar patterns are evident in Bangladesh too.

Misleading the police
There are other ways in which Bangladeshi gangs use girls. Girls and young women increasingly engage in illicit labour on behalf of the mastaan groups. One young Bangladeshi male informed us that mastaan groups are aware of the police clamping down harder on boys than on girls. Therefore, the mastaans convince girls – rather than boys – to do things like sell drugs, steal things or spy on other criminal groups.
Another young person explained why: "If any girl is caught by the police with drugs she has a much better chance of getting off than boys (…). She will try to convince the police that she is a good girl, and even if the police don't believe her, she is likely to get a lawyer at the police station."
This suggests that girls are less likely than boys to face criminal prosecution and reflects prevailing gender stereotypes in Bangladeshi society.
Yaba, a drug that consists of methyl-amphetamine and caffeine, is a popular drug in Bangladesh, though it is illegal. Gang members report that organised crime groups increasingly use female recruits as drug dealers; a specific mechanism to avoid police prosecution. An interesting question arises: Will the girl drug sellers of today become the women dealers of the future?

Women's role in human trafficking
Another category of organised crime in which women play important roles is human trafficking and kidnapping. A gang member in Bangladesh said: "An older woman will kidnap a young girl and sell her abroad or to a different place here." It is easier for women than for men to win a girl's trust and then abuse it. All too often, young women are forced into prostitution or bonded labour.
Research in China revealed a similar picture. Young migrant women and the daughters of migrant parents are often trafficked into sex work or forced to do low paid work in beauty salons or Karaoke bars. The data showed that this typically facilitate a girl's entry into sex work. One social worker explained that "middle-aged women coerce girls into selling sex". Women are thus both victims and perpetrators of gender-specific crimes.
Overall, the nature of organised crime groups needs further research. Mafia organisations are, by their very nature, not transparent, so it is difficult to understand the nature of these groups. The similarities between the two seemingly different countries suggests that more comparative research could lead to important insights. This includes a wider exploration of the role that men and women play in criminal groups and how young people become embroiled in the lower echelons of these criminal enterprises, as both victims and offenders.
It is important to interview the children and teenagers themselves. The voices of children help us to better understand organised crime and the roles that girls and boys play, as both are victims and offenders in these criminal groups. Gender differ­ences are important; and understanding them matters if the violence and exploitation that criminal groups commit is to be tackled effectively. One should not forget: young perpetrators are guilty of serious crimes, but they are also victims themselves.

Sally Atkinson-Sheppard is a criminologist, strategist and international consultant. She has conducted field research in Bangladesh and Mainland China. She earned her PhD from King's College in London.
sallyatkinsonsheppard@gmail.com

References
Atkinson-Sheppard, S., and Hayward, H., 2018: Conceptual similarities; distinct difference: Exploring 'the gang' in Mainland China. In: British Journal of Criminology. doi:10.1093/bjc/azy051.
Atkinson-Sheppard, S., 2017: Street children and 'protective agency': exploring young people's involvement in organised crime in Dhaka, Bangladesh. In: Childhood. Volume 24 (3):1-14.