Personal experiences
Covid-19 impacts worldwide
The pandemic has affected the daily lives of people all over the world. Many lost a loved one and became ill or unemployed. Things that were taken for granted before, such as travelling, shaking hands or one's familiar workplace were suddenly in question. We asked some of our authors to share their personal experiences with us. We will present their contributions on our website in three parts. This is part two.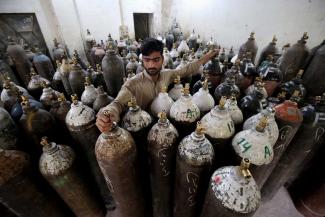 picture alliance/EPA-EFE / BILAWAL ARBAB
Burundi: Shaking hands
Before the pandemic, people in Burundi used to greet each other with a handshake – both on the coast in Bujumbura, the country's largest city, and in the interior. However, due to the risk of infection, people are now dealing with this habit in different ways. For example, during my work as a journalist, I met 60-year-old Marguerite from Muramvya province. She finds it difficult not to shake hands with other older women. Even during the Christian service, she shakes hands with others now and then, although this is officially forbidden. Others are more afraid, however, like 50-year-old Agrippina from Bujumbura. She never shakes hands with people on the street. Just in case that happens, she always carries an infectious agent in her handbag – a behaviour that I have observed in many city dwellers.

Mireille Kanyange is a journalist who works for Radio Isanganiro in Burundi.
mika.kanyange@gmail.com

Pakistan: Remote work and class divide
When Pakistan went into lockdown because of Covid-19, many offices and educational institutions initiated work-from-home policies. This added to the disparity between social classes in the country. While much of the urban elite continued with their education and work using digital infrastructure, a substantial part of the population was left behind. A majority of Pakistanis do not have internet access at all, and many of those who do struggled when they were forced to work outside their familiar workplace. I am a law professor at an elite university, so my students tend to be privileged. However, when they had to vacate their dorm rooms, many of them no longer had access to technical devices and stable internet connections. Some lacked a separate space at home where they could sit and attend online lectures. This affected their learning experience, so I had to provide support, including sharing of recorded lectures. Moreover, many female students were tasked with domestic chores and often missed classes for this reason.
Marva Khan is an assistant professor of law at LUMS (Lahore University of Management Sciences).
marva.khan@lums.edu.pk