Personal experiences
Covid-19 impacts worldwide
The pandemic has affected the daily lives of people all over the world. Many lost a loved one and became ill or unemployed. Things that were taken for granted before, such as travelling, shaking hands or one's familiar workplace were suddenly in question. We asked some of our authors to share their personal experiences with us. We will present their contributions on our website in three parts. This is part one.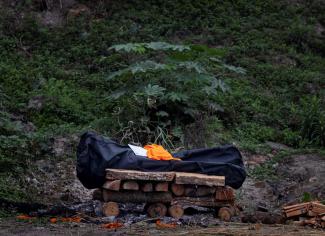 picture alliance/EPA-EFE / NARENDRA SHRESTHA
Zambia: Running out of medicine
Zambia's first cases of Covid-19 occurred in March 2020. Since then, life in the country has been disrupted. The health sector was affected in particular. Medical facilities ran out of essential drugs such as cough syrups, painkillers and vitamin C supplement drugs. The demand was unusually high and beyond health providers' expectations. This shortage has negatively affected many peoples' daily lives. For instance, my five-year-old child had been due to undergo a routine surgery at our local hospital at the time Covid-19 broke out. However, he could not proceed, because the hospital lacked necessary drugs and surgical tools. Luckily, the surgery has been performed in the meantime. The government's failure to plan ahead and procure enough drugs and health equipment is certainly one of the key lessons of Covid-19 in Zambia. The country needs to better prepare for future health emergencies.
Derrick Silimina is a freelance journalist based in Lusaka, Zambia.
derricksilimina@gmail.com

Nigeria: Travel restrictions and job loss
As a journalist, I used to travel a lot before the pandemic. Once per year, for example, I used to attend the International Labour Conference in Geneva, Switzerland. When Covid-19 hit, however, journalists in Nigeria couldn't even attend assignments on the local level as traveling within the country was restricted. Consequently, it has become difficult to generate stories. Some of my colleagues lost their jobs and now work as freelancers without earning much income. I also know of a former leader in the tourism union who became unemployed. He used to work in a hotel and now has to move back to his farm. Many workers in Nigeria were eased out with a promise that they would be recalled once the situation would improve. Yet, they never got a second chance as the country is still in economic crisis. One positive aspect of the Covid-19 pandemic is that Nigerians are now more conscious of their health.
Bimbola Oyesola is a Lagos-based journalist.
oritokeoyee@gmail.com

Nepal: Mourning society
Nepal is a grieving nation. All of us have lost someone near and dear to us during the first, second or third wave of the Covid-19 pandemic, including family members, friends and coworkers. My maternal aunt caught the virus and did not receive intensive care on time. She died. I survived two infections and feared for my small kid while staying at home in isolation. At present, there is a lot of talk about the "new normal" or about digitisation. However, we did not talk much about what we have been through. Moreover, it hurts to know that much suffering could have been avoided if Nepal had a better health-care system. During the second wave, too many people died because they lacked oxygen. Some of them might still be alive if more hospital beds had been available, especially in intensive-care units. However, the government failed to respond promptly and take necessary measures.

Rukamanee Maharjan is an assistant professor of law at Tribhuvan University, Kathmandu.
rukumaharjan@gmail.com