Depression
Confronting the disease
While Covid-19 runs rampant in Brazil, another, less visible scourge is on the loose: depression, a severe mood disorder.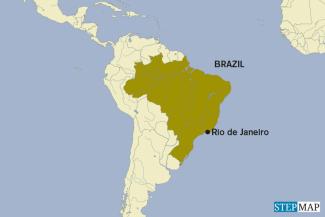 stepmap.de
According to the World Health Organization (WHO), 5.8 % of Brazilians suffer from depression, compared to a global rate of 4.4 %. Brazil's rate of depression is the highest in Latin America and second highest in the Americas, behind only the USA. Worldwide the number of people with depression has grown by 18.4 % over the past 10 years, reaching 322 million, according to the WHO. It predicts that by 2030, depression will be the world's most common disease.
For the 12 million Brazilians who suffer from depression, life is a daily battle against varying levels of despair. Among the symptoms are mood swings, sadness, anxiety, apathy, guilt, general discontent, hopelessness, loss of interest, uncontrollable crying, irritability and social isolation.
How can a country typically associated with sunshine, lively and noisy festivities on the beach, samba parades and Carnival celebrations have so many depressed citizens? Psychologist Patrícia Marquizelli sees socio-economic causes. "Economic instability, rising unemployment, lack of prospects and insecurity about the future are causes," she says.
Depression affects Brazilians regardless of age, skin colour, creed or social class. Increasingly, however, it is striking young people. "The pressure to choose a profession at an early age is a problem," Marquizelli says. "Also, families are weakening, which makes young people uncertain about their values and their direction. This causes anxiety and a sense of isolation, and that increases the probability of depression.''
For people who seek help for depression, the needed medications are not always available. Brazil's Unified Health System, known by its acronym SUS, makes some drugs available but not all. A prescription must be from an SUS doctor. Distribution is through establishments designated by municipal health departments, but this network is not available to all who need the drugs.
The cost of medications is also a factor. ''The drugs I need to take cost about half the minimum wage per month," says Beatriz Amadeu Fernandes, 28, a depression sufferer from Brasília. Fernandes, who was diagnosed with depression when she was 20, says she has little choice but to buy the medications. "I knew there was something very wrong with me," she recalls of the time leading to her diagnosis. "My parents thought it was just the way I am. But I was not able to speak. My eyes no longer focused. The tears just streamed down my face. When I had the deepest depression I finally went to get help.''
Withdrawal and isolation are typical symptoms of depression in young people. Ignoring or misinterpreting such symptoms can be dangerous. In extreme cases depression can lead to suicide. In Brazil, suicide is the third leading external cause of death (after accidents and assaults), with 12,500 cases in 2017, according to the Ministry of Health.
The first requirement for depression sufferers is for symptoms to be noticed and correctly identified. The support of family and friends is essential for seeking help and returning to health, says psychologist Ester Ventura. With proper medical help, patients can start the healing process.

Thuany Rodrigues is a journalist in Brazil.
thuanyrodriigues@gmail.com