Child labour
Underage on the job
At ages 11 and 13, respectively, Percy Gwauya and her brother Laiton take turns pushing a wheelbarrow laden with water jugs along a dusty pathway in Chakari, a mining village in western Zimbabwe. They do this every day, fetching water for their parents, who use it in illegal panning for gold.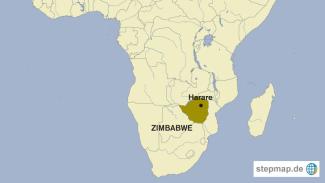 stepmap.de
Their work violates Zimbabwe's laws against child labour, but legal protections are a distant concept. "We don't know about laws," Laiton tells a reporter. "We just do the jobs our parents tell us to do."
Sadly, Zimbabwe's mining towns, rural villages and even big cities have many children in their situation. Children work in locally owned mines and tobacco fields and private homes, and sometimes they even work in houses of prostitution.
Children's rights advocates say the situation is becoming worse. "Either because of deepening poverty or because of Covid-19 keeping children away from school, they are more vulnerable than ever to being put to work," says Taylor Nyanhete, director of the Zimbabwe National Council for the Welfare of Children (ZNCWC), a non-governmental organisation.
On paper, it is illegal in Zimbabwe to employ children under age 15 in jobs classified as hard labour. The only exception under Zimbabwe's Labour Act is when children aged 13 to 15 years are enrolled in formal apprenticeships.
It is also illegal to employ anyone under 18 in jobs that might compromise a worker's health, safety or morals.
According to a 2018 report by the US Department of Labor titled "Findings on the worst forms of child labor", data on the prevalence of child labour, and even on the proportion of Zimbabwean children attending school, are scarce.
But the report says child labour is widespread and says among the reasons are deficiencies in Zimbabwe's legal framework for protecting children. Among these deficiencies are the lack of free basic education and under-funded law enforcement agencies.
On the plus side, Zimbabwe has made moderate progress on fighting human trafficking, and has allocated more money to education and transferred more cash to households with vulnerable children, the report says.
Village leaders agree with that assessment. "The government has laws that discourage the employment of underage children, but people continue to do what they want with children," says Dayton Shumba, a village leader in Chakari. "There have been no arrests of people recruiting underage children for labour."
"The government itself has officials and ministers who employ underage children on their farms," says Claris Madhuku, head of the Platform for Youth Development, a human-rights organisation. "People take advantage of underage children knowing the children can't report them to the authorities."
Further reading
US Department of Labor: 2018 Findings on the worst forms of child labor.
https://www.dol.gov/sites/dolgov/files/ILAB/child_labor_reports/tda2018/Zimbabwe.pdf

Jeffrey Moyo is a journalist in Zimbabwe.
moyojeffrey@gmail.com