Finance
Sustainability in Kenya's and Sri Lanka's banking sector
Germany's development finance institution DEG takes into account environmental and social aspects when financing investments. So it makes considerable contributions to sustainable development. We present two examples of how DEG helps implementing sustainability principles in the banking sector.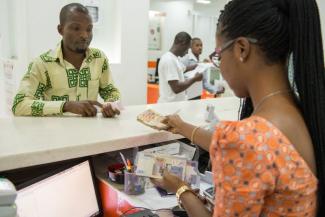 Thorsten Thor/DEG
The Kenya Bankers' Association Sustainable Banking Principles
In 2013, members of the Kenya Bankers' Association (KBA) agreed to develop and implement common sustainability guidelines for the country's financial sector. Their goal was to establish a sustainable financial sector in Kenya by creating and safeguarding long-term value for banks, their clients and society in general.
This initiative towards common guidelines was initiated by the Finance Initiative of the UN Environment Programme (UNEP), co-funded by DEG and its Dutch counterpart FMO and was promoted by local banks as well as subsidiaries of international commercial banks. Close cooperation with other parties, such as the Kenyan central bank, the ministry of environment and local business associations contributed to guideline acceptance at all levels. A roundtable of chief-executive officers, where representatives from DEG and FMO took part, passed guidelines concerning:
financial returns versus economic viability,
growth through inclusivity and innovation,
managing and mitigating risks,
resource choices and
business ethics and values.
An educational internet platform serves to implement the guidelines as well as to train bank managers and staff. The platform was developed and co-financed by DEG. By August 2016, over 13,400 staff had successfully completed the course. Many banks required employees to complete the training. Development finance institutions contributed to implementing such standards. Given the strong positive response in the entire East African Community (EAC), to expand the initiative regionally is being considered.

The Sri Lankan Sustainable Banking Initiative
The Sri Lanka Bankers' Association (SLBA), of which Hatton National Bank, a DEG client, is a member, has initiated a two-stage approach to mainstreaming environmental and social standards in the financial sector.
In a first "exploratory phase", which resulted in a roundtable of chief-executive officers, the SLBA granted a mandate to start the Sri Lankan Sustainable Banking Initiative (SLSBI). Upon request of Hatton National Bank, DEG participated in the coordinating and technical taskforce. In the process, 18 local banks decided to:
establish a forum for sustainability questions in the banking sector,
coordinate measures to raise efficiency and effectiveness of sustainability measures,
agree minimum standards regarding environmental and social issues in business operations and
implement the highest possible common standards in the entire banking sector.
The next step is to draft a training-programme concept for bank employees, including the preparation of case studies, training modules and train-the-trainer programmes.
DEG supported the development of the guidelines. By providing expert advice, it had previously enabled its client Hatton National Bank to implement its own environmental and social management system.