Contraceptives
Planned parenthood via mobile phone
A staggering 57,000 teenage girls got pregnant in Ghana in the first half of 2017. Young people do not get adequate sex education, but civil-society organisations are doing something to change this. They organised a forum to discuss sex, reproductive health and related rights in Northern Ghana in an effort to solve this problem. Teenagers and women of childbearing age were the prime target.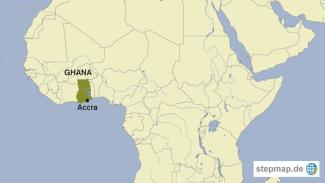 stepmap.de
Acceptance rate for contraceptives in the Northern region of Ghana is hovering around 22 % for married women and 27 % for unmarried women. In the eyes of Peter Dakurah of the Planned Parenthood Association of Ghana, those ratios are too low and show that people are neither properly informed about contraceptives nor have adequate access to them. Addressing the forum in Tamale, he said:  "When people are able to freely exercise their choice of contraceptives, control their fertility, have fewer children at paces that don't affect their health, this has a positive impact on the economy."
A group of curious teenage girls surrounded a midwife at a round table in the auditorium. They were discussing reproductive health and sex. Hafsat Yurizaa, a teenage girl, explained the problems they face. "Many health-care providers deny young people services or are not friendly to us when we visit health centres." In her eyes, youngsters are left at risk of "peer misguidance".  
To improve things, some health facilities are lowering and even removing barriers. Rebecca Azumah is a senior midwife at the regional health directorate. She points out: "We are now on Instagram, Twitter, Facebook – we are on all the social media. When young women need information, they can type in their mobile phone whatever question they have, and they will get somebody who will provide reliable information."
For some people, such information comes too late. Alhassan Nafisah is 17 years old and eight months pregnant. "I didn't know how to protect myself, otherwise I wouldn't be pregnant now," she says. She regrets that she has had to drop out of school. Many young girls are often forced to live with the boys that got them pregnant. Alhassan is one of them.  "My parents said I should go and stay with him – so I did, even though I didn't like it."
Tamara Sulemana works with the Northern Sector Advocacy and Awareness Center (NORSAAC), a gender-based organisation helping women and young girls. "The young people today are sexually active," she explains. She says they need sex education and access to contraceptives. Otherwise, she warns, there will be even more teenage pregnancies.
Maxwell Suuk is a journalist and lives in Northern Ghana.
suuk.max@gmail.com

Links
Northern Sector Advocacy and Awareness Center:
http://www.norsaac.org/
Planned Parenthood Association of Ghana:
http://www.ppag-gh.org/