Climate crisis
Learning from each other to cope with climate crisis
In some countries, global heating is causing devastating harm, with serious implications for people's welfare. A report that was recently published by two think tanks, the London-based IIED and the Dhaka-based ICCCAD, provides insights into the challenges – and how to deal with them.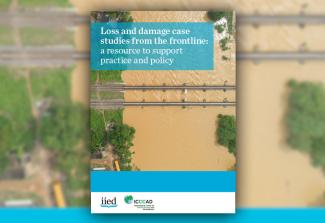 IIED/ICCCAD
Climate related disasters are becoming worse, but global media attention is decreasing. They hardly paid attention to millions needing aid in East Africa because of severe drought in recent months, nor took notice  when Typhoon Rai hit the Philippines before Christmas.
In the past decade, developing countries and small island developing states (SIDS) have borne the brunt of climate related hazards, including cyclones, excessive rainfall, heat waves and droughts. In 2020, Cyclone Harold caused damage worth about $ 440 million in Vanuatu, a small island state in the Pacific. That was not quite half of the country's annual gross domestic product. Events of this kind clearly overburden a nation.  
The IIED (International Institute for Environment and Development) and the ICCCAD (International Centre for Climate Change and Development) have teamed up to create a "toolkit" for stakeholders in places that are exposed to climate risks. The publication was edited by Ritu Bharadwaj and Clare Shakya and launched before the UN climate summit in Glasgow 2021. The authors of the case studies are from developing countries which are exposed to climate risks but have not contributed much to bringing them about.  
As introduction points out, the international debate on loss and damage began more than three decades ago. Developing countries have long demanded a mechanism to compensate for the harm done by extreme weather, and they wanted to see results at the UN climate summit in Glasgow (see ICCCAD director Saleemul on www.dandc.eu). However, the prosperous nations, in spite of being major emitters of greenhouse gas emissions, only agreed to keep discussing the matter further.
The IIED/ICCCAD publication shows that losses and damages hamper the adaptive capacities of many countries and may even exceed them. Many different factors have a bearing on those capacities. On the one hand, the exposure to climate hazards obviously matters very much. How people cope, however, also depends on economic development, poverty levels, the quality of governance and infrastructure, the availability of essential services, the health status of both people and ecosystems, as well as many other things. 
The IIED/ICCCAD publication was created to inform stakeholders in countries at risk and policy advocates. The guiding idea is to:
illustrate impacts of climate change,
explain what they mean for individual people, communities and ecosystems,  
highlight interactions with other issues such as poverty and conflict,
assess coping and adaptation strategies,
identify knowledge gaps, and
spell out priorities for action at various levels.
Accordingly, the case studies in the book deal thus with different phenomena in highly specific circumstances. One case study shows how rising water levels hit household's costs of living in a Tanzanian village. Another assesses how climate change is contributing to conflict and displacement the Lake Chad Basin (see Mabingué Ngom on www.dandc.eu). Other topics covered include:
the impacts of heat and drought on a district in North India,
infrastructure devastation in two villages in Bhutan and
how one island of Vanuatu coped with Cyclone Harold.
In the absence of international support, many governments are developing mechanisms of their own, according to IIED/ICCCAD, and local and traditional survival strategies matter very much. The publication is designed to "harnessing a shared understanding of how effective these approaches and mechanisms are". That, obviously, is a basis for scaling up.
Several approaches are helpful. The authors argue, for example, that early-warning systems contribute to reducing harm. At the same time, they warn that many losses will be permanent and that transformative measures will be needed in many places.
It is, of course, no coincidence that the IIED/ICCCAD publication largely, but not exclusively focusses on countries that belong to the Climate Vulnerable Forum (CVF), an alliance of 48 developing countries. Together, they have a population of 1.2 billion people. 

Link
Bharadwaj, R. and Shakya, C. 2021: Loss and damage case studies from the frontline: a resource to support practice and policy.
https://pubs.iied.org/20551iied

Wanjohi Kabukuru is a Kenyan journalist who specialises in environmental affairs.
wkabukuru@gmail.com
Twitter: @WanjohiK