Twitter
Twitter could become a plutocrat's toy
Elon Musk, a tech-sector billionaire, wants to buy Twitter, turn it into a private company and change it profoundly. The implications for political discourse and democratic deliberation may turn out to be substantial – not least in the global south.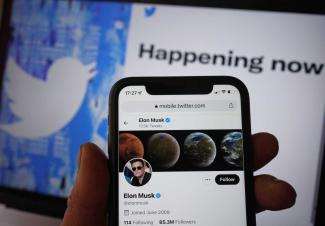 picture alliance / empics / Yui Mok
In the global south, Twitter is not as popular as other social-media platforms such as WhatsApp, telegram, tick-tock or Facebook. It is nonetheless an important global forum that shapes public debate and influences people.
Many internet users will not personally notice Twitter's relevance to political discourse, since it has a comparatively small user base. What matters is that specific groups heavily rely on Twitter, including journalists, public intellectuals and policymakers. What makes Twitter valuable is the networks of people who belong to these elite circles.
Rewarding celebrity
Prominent persons have the greatest reach on Twitter, as personalities from politics, the media, pop culture et cetera have the most followers. Bots – software that automatically shares and retweets specific messages – are known to boost propaganda in manipulative ways. However, an average person would probably be unable to attract a large number of followers even with the support an army of bots.
Musk has more than 90 million followers on Twitter. He is known for jokes, sarcasm and leaking proprietary business information, which earned him the attention of the Security and Exchange Commission, the stock-market regulator in the USA. To him, "freedom" seems to mean doing what he want without a government agency getting in his way, an attitude we often see among oligarchic populists (see Hans Dembowski auf www.dandc.eu).
Musk rules?
Depending on how Musk might change Twitter's rules, the platform may either strengthen democratic deliberation or authoritarian populism in the future. Crucial issues will be who is allowed to use Twitter and what kind of messaging is permitted. Musk claims to be a "free-speech absolutist". For all practical purposes, that will probably mean that anyone with a loud voice will be free to state whatever they want – including disinformation, hate speech and lies. When the manuskript was finalised in mid-May, the prospective Twitter owner had tellingly just said he does not want former US president Donald Trump to stay barred from the platform.
In the global south, Twitter will most likely keep amplifying powerful members of the elite. Debates that start on Twitter often find their way onto other social-media platforms as well as into mainstream media. India's reactionary Hindu supremacists typically rely on WhatsApp to amplify messages, whereas Russian and Ukrainian actors are using telegram channels for the propaganda campaigns as part of the ongoing war.
Would a new Twitter leadership make matters worse? It is unlikely that the platform will become an unusable hub of mis-and disinformation. Though Musk denies he has an economic interest in Twitter, he would not have become a billionaire without caring for money. To generate revenues, he has proposed charging Twitter users "a small fee". That might make the platform even more elitist.
Should Musk try to turn Twitter into a commercial platform like Instagram or Facebook, the constant flow of advertising would probably make serious voices from civil society, politics and journalism abandon it. Twitter's current role would be compromised. In the USA, pro-democracy Twitter users have begun to leave the platform. Such a trend might well prove harmful to both Twitter and democracy.
Complex algorithm
Musk has also said he wants the Twitter algorithm, which determines what people see on their timelines, to be transparent. Transparency would reduce the scope for manipulation. However, the algorithm is quite complex, so only few people would actually understand it.
What is more publicly relevant is who Musk hopes will support his $ 44 billion acquisition. Relevant allies include an investment fund controlled by the reactionary Royal House of Qatar, a superrich Saudi Prince and software billionaire Larry Ellison of Oracle.
Twitter is an important platform of international debate. Now it seems at risk of becoming a billionaire's toy. We should consider that a warning.

Charles Martin-Shields as a senior researcher at the German Development Institute in Bonn.
charles.martin-shields@die-gdi.de