Malawi
Sewing masks to fight corona
As the coronavirus continues to wreak havoc, there is a massive global shortage of face masks. This has inspired people around the world to start making their own. Malawians have joined the mask-making campaign.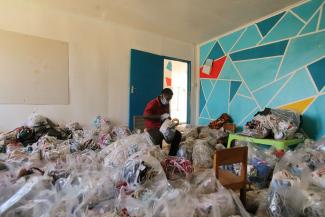 Masks4AllMalawi
An army of volunteers across the country are busy sewing masks from locally available materials such as cotton, clothes and other pieces of fabric. This non-profit campaign is running under the banner #Masks4AllMalawi.
So far, over 2 million masks have been produced, and a production rate of half a million masks per week has been reached. They are being made available free of charge to people throughout the country.  
The face masks are not medical grade or N95 respirators, that filter particulates such as the corona virus and meet a certain US standard. But they have been approved by the country's Ministry of Health now that medical masks are in short supply.
There continues to be a debate around the efficacy of the cloth masks. They are not meant to protect the person who wears them from infection, but the people around him or her. Doctor Gama Petulo Bandawe, the chief medical virologist of the #Masks4AllMalawi campaign, says universal mask usage has a potential public- health benefit towards curbing the virus despite the absence of proven scientific data.
#Masks4AllMalawi is being powered by an international network called the Hestian Project, a programme which normally promotes the use of cleaner cook stoves to reduce exposure to household air pollution. Conor Fox, one of the campaign organisers and a co-founder of the Hestian Project, said the masks are being distributed through various channels including via the network of 3,000 stove producers across 200 villages which has reached over 3.5 million Malawians.
"We are a group of over 40 consultants, experts and volunteers, including medical epidemiologists and virologists working on a campaign to help people in Malawi respond quickly to the coronavirus," Fox explains. The Hestian Project has managed to raise half a million euros for the mask project and got money donated by the general public.
The country has now recorded 3343 Covid-19 cases with three deaths (7 May). In April, the Malawian government announced a 21 day lockdown which was met by a stop order from the High Court (see Raphael Mweninguwe in the covid-19 dairy in D+C/E+Z e-Paper 2020/05). The judges acknowledged small-scale traders' worries, who were afraid to lose their livelihoods. Citizens are now asked, not ordered, to act in ways to prevent the spread of Covid-19.
About 90 percent % of Malawians work in the informal sector which means a lot of people operate on a hand-to-mouth basis. Therefore, such lockdowns would put the food security of the poor at high risk. 

Link
#Masks4AllMalawi:
https://www.masks4allmalawi.org

Rabson Kondowe is a journalist based in Blantyre, Malawi. He is interested in social development, health and business related stories.
kondowerabie@gmail.com