Extrajudicial killings
The deadly impact of lawless "security" forces
International human-rights organisations keep criticising excessive police violence in the Philippines, where President Rodrigo Duterte claims his security forces are fighting drug criminals. Innocent people are being killed. Our correspondent Alan C. Robles expresses his anger at lawless police action.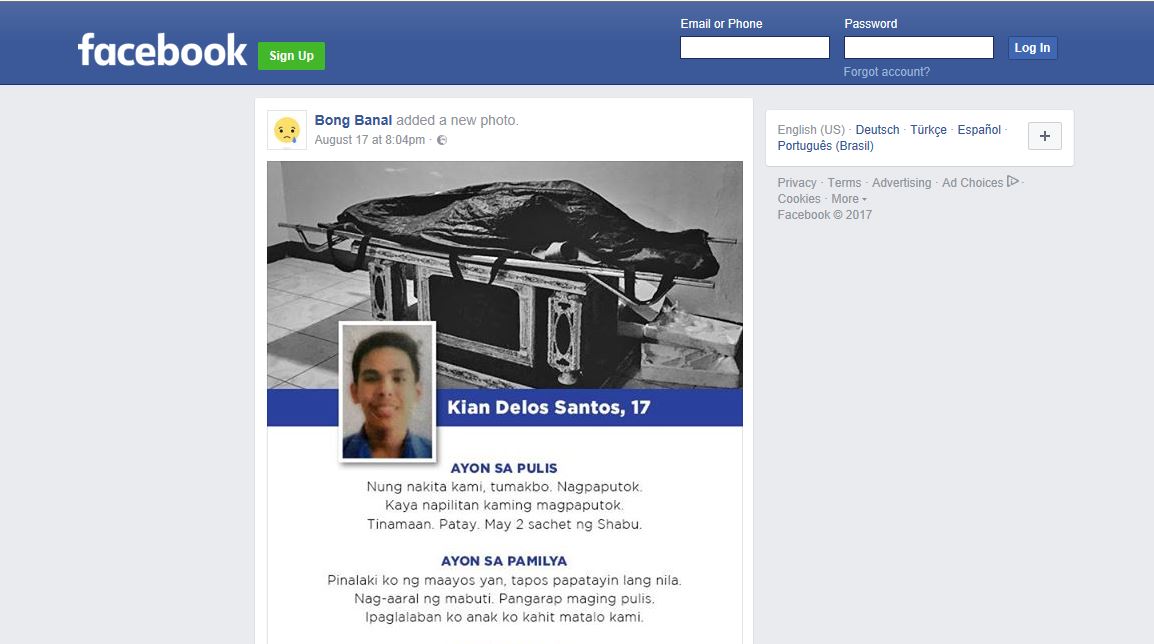 Bong Banal
I found this image on Facebook and shared it on Twitter, where it's gone viral – 18,000 likes and 12,000 shares in less than a day. Let me translate:
ACCORDING TO POLICE: "When he saw us he ran. He fired on us, forcing us to shoot back, hitting and killing him. We found 2 sachets of drugs on him."
ACCORDING TO FAMILY: "We brought him up well, he was a good student, he wanted to be a policeman. And they just killed him. We will fight for our son even if we (know we'll) lose."
ACCORDING TO  CCTV CAMERA: "Kian was held tightly by two policemen, a jacket thrown over him. He was dragged (to an alley). A third policeman followed."
ACCORDING TO EYEWITNESS: "Kian asked (the police), what am I supposed to do with that gun? The police said, hold it, fire it. Run! Kian ran crying. The police gunned him down."
A few days ago a 23-year old "special child" (disability on the autism spectrum) was just gunned down by a man on a motorcycle. Months ago, another youth with club feet was made to kneel, mocked by gunmen and then shot dead.
What does Duterte say? He's elated so many people have been killed, he wants at least 32 people murdered daily. He's already said he wants at least 4 million killed. I don't know how long this will last but the latest murder seems to have provoked a backlash. It doesn't stop Duterte trolls and fanatics from cheering.

This is why I am permanently angry these days. I've read tons of materials about dictatorships – especially Hitler's – and even experienced the Marcos regime for myself. But to see otherwise intelligent people (some of them my friends) shouting their approval of mass murder, and passing around fake news, takes it to a new level of personal experience.

Alan C. Robles is a Manila-based journalist.
editor@hotmanila.ph