Migration
Rampant child smuggling
Many people from Zimbabwe go to work in South Africa. When they have settled there, they send for their children to join them. Many minors travel unaccompanied and without documents. Smugglers bring them across the border.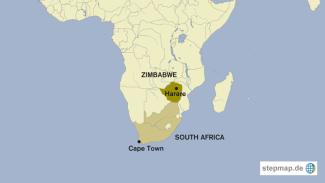 stepmap.de
Thembi Nyathi's family was happy when the mother left for the rich neighbouring country of South Africa, because she had found work there and could send money home. She promised to fetch her little daughter to be with her, but it took three years for this to happen.
Finally, four-year-old Thembi left Bulawayo, Zimbabwe's second largest city, heading for South Africa to be reunited with her mother. She travelled in the company of several other minors. This reporter disguised as an illegal cross-border traveller and closely followed the underage migrants.
The transporter little Thembi travelled with lined up exactly 45 children ranging from the ages of two to nine years old, all of whom were bound for South Africa. None of the minors had travelling documents.
The smugglers claim that they record the details of all children they bring from Zimbabwe to South Africa. The parents pay at least 800 Rands ($ 55) per child for the journey. But bribes for patrolling cops and immigration officials from both countries on the highway make the costs shoot up.
Often, the boys and girls do not reach their destination. "Thembi was never delivered to her mother in South Africa," Melisa Ngulube, Thembi's aunt, recounts back in Bulawayo almost two months later. "She was driven back here by the transporter that had taken her to South Africa, because the money her mother had paid for her delivery was inadequate. The driver demanded 800 Rands more, claiming that the money that had earlier been paid got finished as he bribed cops and immigration officials during the journey." Since the mother couldn't pay, four-year-old Thembi was returned to her aunt.
This year alone, a total of 150 children were intercepted while being smuggled, according to the Zimbabwe-South Africa Cross-Border Coordination Committee for Unaccompanied and Separated Migrant Children.
For Zimbabwe's government, dealing with child smuggling has become a herculean task. "Every day we arrest a number of cross-border transport operators implicated in the illegal movement of children," says Francis Phiri, a police officer.

Jeffrey Moyo is a journalist and lives in Harare, Zimbabwe.
moyojeffrey@gmail.com