Gender
Menstruation justice in Mexico
For a very long time, menstruation was a taboo in Mexico. It was not mentioned in society, and government agencies shied away from it. More recently, however, the government's approach has changed, and it is now promoting menstruation justice. There has been a remarkable progress, though some people remain un- or under­-informed.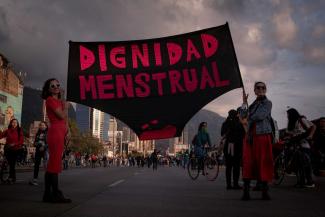 picture-alliance/ZUMAPRESS.com/Perla Bayona
To some extent, taboo and stigmatisation persist. The results include inadequate health infrastructure and limited access to menstrual hygiene materials.
Up to January 2022, menstruation-related consumer goods were actually considered to be luxury items in Mexico. They were heavier taxed than essential consumer goods. Even though pads, tampons and menstruation cups are now tax-free, some women still do not have access to those items. Mexican society is marked by strong inequality.
More than half of the population live on below-­poverty-line incomes, and 17 % do not have the purchasing power to buy everything they need to fulfil day-to-day needs. Sufficient food and menstrual-management materials often remain out of reach.
Moreover, many women do not have access to clean and safe toilets, and hygiene problems are compounded during menstruation. It is the government's duty to bring about change.
Things have been improving in Mexico since 2021. To some extent, menstrual hygiene materials have become available free of charge at least in the public school system. Nine of 32 Mexican states have granted free access, especially to members of disadvantaged rural and indigenous communities. Michoacán was the first state to insist that schools must make these goods available free of charge. This state has also included menstrual education in mandatory comprehensive sex education. This is very important since too many young girls do not have sufficient information about their bodies when they first experience menstruation, are unsure about what their menstrual cycle is, about their fertility window and premenstrual disorders.
Free distribution of menstrual hygiene materials must go along with other measures, including menstrual education and data collection. The reason is that evidence-based policies and programmes require reliable statistics.
In October 2022, the publication of the first national survey of menstruation management in Mexico was a milestone. The research was done by the civil-society organisation Menstruación Digna México ("dignified menstruation Mexico"), the private sector company Essity, which focuses on hygiene and health, and UNICEF. It revealed how girls and women handle menstruation, what the gaps in health infrastructure are, what is missing in legislation and what sociocultural obstacles remain. The survey covered 3000 persons who menstruate or used to menstruate earlier in their lives in the age group 12 to 70.
Pamela Cruz is a project coordinator for Comunalia, the alliance of community foundations in Mexico, and a strategic adviser of MY World Mexico, a nationwide social business that promotes sustainable development and cooperation.
pamela.cruzm@gmail.com