Education
Keeping girls in school
Girls starting primary school in Malawi faces daunting odds. According to the UN Population Fund (UNFPA), only about 25 % of them actually complete primary school. Nearly 60 % drop out for a variety of reasons related to poverty, lack of motivation and poor sanitary facilities. Another 15 % leave school specifically because of pregnancy and/or marriage.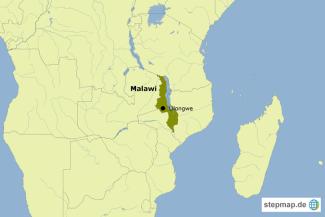 stepmap.de
On top of this, about 20 % of Malawian girls under 18 experience rape or other sexual violence, the UN agency says in a report titled "Mother groups – underutilised resource in girls' education in Malawi". The agency aims to improve maternal and reproductive health worldwide.
To improve the odds that Malawi's schoolgirls will stay the course, UNFPA and the Malawi Education Ministry sponsor "mother groups" – circles of about 10 adult female volunteers attached to schools, which advise girls to remain in class and help them to do so.
The mothers use a variety of methods. They explain the importance of education, serve as role models, and arrange referrals for reproductive health services. They counsel girls on how to resist pressures to drop out. Some girls face pressure from their own parents to quit school, especially if they are married and their husbands help to support their parents.
The mothers show girls how to care for themselves, including how to make sanitary pads out of scraps of cloth which can be washed and re-used. They also make such pads and give them to girls who forgot to bring their own, says Lloyd Mtalimanja, a programme coordinator at WaterAid Malawi. The NGO upgrades sanitation facilities in schools, including improving toilets and basins for washing hands.
Menstruation is a major factor in the drop-out rate. "When girls are menstruating they prefer to stay at home," says Bright Sibale, Head of Centre for Development Management, a consulting firm. He carried out a study on child development, funded by World Relief Malawi, which finds that girls' absence from school correlates strongly with their menstrual cycles.
"Most girls drop out because of bullying from boys, especially when they have their periods," says Ellen Phiri, a teacher. "The mother groups help many girls to stay in school or to return if they have left. Many of those girls are doing better than before, and some are being selected for secondary school."
Data on the success rate of mother groups in reducing dropout rates are incomplete. However, some local statistics point to a significant impact. According to Thokozire Livuza, a primary education advisor in the Mulanje district, the number of primary school pupils in the district's Mombo Zone rose from nearly 11,900 in the 2017/18 academic year to nearly 14,400 in 2018/19. Most of that increase was due to the efforts of mother groups, she says in a Malawi News Agency article titled "Mother groups improving school attendance".
Mother groups are active in about 350 Malawian primary schools. Those groups receive "supportive supervision" from the Education Ministry, as well as some of the funds that the ministry provides to schools. But the 350 schools represent only a fraction of Malawi's 6,400 primary schools.
Fewer than half the 350 mother groups are active in schools that participate in the UNFPA's Joint Programme on Girls' Education, which aims to keep girls in school. "The mother groups work as volunteers; it is important to support them with training and funds," Sibale says.

Raphael Mweninguwe is a freelance journalist based in Malawi.
raphael.mweninguwe@hotmail.com
Normal 0 21 false false false EN-US X-NONE X-NONE /* Style Definitions */ table.MsoNormalTable {mso-style-name:"Normale Tabelle"; mso-tstyle-rowband-size:0; mso-tstyle-colband-size:0; mso-style-noshow:yes; mso-style-priority:99; mso-style-parent:""; mso-padding-alt:0cm 5.4pt 0cm 5.4pt; mso-para-margin-top:0cm; mso-para-margin-right:0cm; mso-para-margin-bottom:8.0pt; mso-para-margin-left:0cm; line-height:107%; mso-pagination:widow-orphan; font-size:11.0pt; font-family:"Calibri",sans-serif; mso-ascii-font-family:Calibri; mso-ascii-theme-font:minor-latin; mso-hansi-font-family:Calibri; mso-hansi-theme-font:minor-latin; mso-ansi-language:EN-US; mso-fareast-language:EN-US;}