Garments production
Decent conditions and fair wages
In Myanmar, the garments industry is booming. After decades of isolation, the country's economy is opening up, and global players have started sourcing from its factories. While investments are welcome, and garments production is powering economic growth, the workers are hardly benefiting from this trend.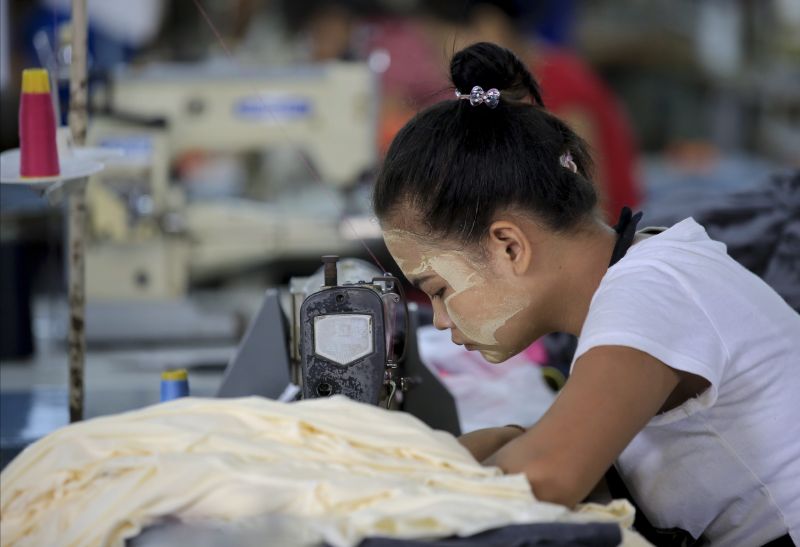 Lynn Bo Bo/picture-alliance/dpa
In 2014, an average of two new garments factories opened every week in Myanmar. The industry now comprises almost 300 factories, with a workforce of nearly 300,000, of whom 90 % are young women. Global retail brands like Gap, H&M, Primark and Adidas are among the buyers.
According to research done by Oxfam last summer, garments workers are stuck in poverty in spite of working up to 11 hours per day, six days a week. The experts assessed 22 factories in industrial zones in and around Yangon, the country's economic capital.
In September 2015, a minimum wage of $ 83 a month was introduced – the lowest minimum wage of any garment-producing country in the world apart from Bangladesh with $ 68 per month (also see article by Asadullah and Wahhaj). Oxfam considers the setting of a minimum wage an important benchmark, but the results of its recently published report "Made in Myanmar" suggest that the sum is not enough for workers to cover their and their families' basic needs. Almost half of all workers surveyed are trapped in debt and report that they borrowed money to pay for basic items.
Safety was another big concern. More than one in three workers reported that they had been injured at work. Many were afraid of factory fires, saying that building exits were often blocked or even locked.
According to the findings, workers face verbal abuse by supervisors, who often put pressure on them to work faster. Almost one in four workers was forced to do overtime, sometimes unpaid. A number of respondents reported working through lunch breaks and into the night to meet excessive production targets.
Weak rule of law, poor regulation and the lack of respect for workers' rights compound the dismal labour conditions in Myanmar's factories, the authors state. If those conditions do not improve, they expect serious accidents, social unrest and human-rights violations. Oxfam calls on international brands and their suppliers to safeguard workers' fundamental rights and to make sure they can earn a decent living for themselves and their families.
Therefore, international sourcing companies should:
publish the locations of supplier factories to enable independent monitoring of work conditions,
support suppliers to ensure that workers receive regular training and information,
ensure that supplier factories can afford to pay legal wages and even facilitate wage bargaining to raise wages above the minimum level,
ensure that delivery times do not require workers to do excessive overtime,
develop long-term relationships with suppliers so that they can plan for a long-term workforce, and
stop or at least strictly limit the use of short-term contracts in supplier factories.
Manufacturers and sourcing companies should:
recognise the right of independent trade unions and employers to engage freely in collective bargaining, including bargaining on wages at the factory level,
provide regular training for workers on occupational health and safety as well as fire/electrical safety,
allow and support the formation of workers' health and safety committees,
develop mechanisms for workers to anonymously report safety hazards to managers, and
create accessible, effective and efficient mechanisms for addressing workers' grievances.
In Myanmar, the garments industry is just starting to grow. According to Oxfam, decision makers and business leaders have a choice: they can either allow the country to become the next low-cost, exploitative and unstable manufacturing location; or they can learn from other low-income countries' mistakes and make industrial growth fair and inclusive right from the start.
Katja Dombrowski

Link:
Made in Myanmar: Entrenched poverty or decent jobs for garment workers?
https://www.oxfam.org/sites/www.oxfam.org/files/file_attachments/bp209-made-in-myanmar-garment-workers-091215-en.pdf