Health
Non-communicable diseases on the rise
For a long time, non-communicable diseases (NCDs) were seen as rich people's diseases. But a growing trend in developing nations is proving otherwise, due to unhealthy lifestyle like smoking or unhealthy living conditions.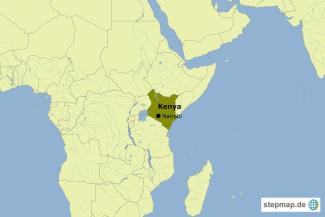 stepmap.de
"I was diagnosed with high blood pressure three years ago," says 41-year-old Khadija Juma Nassur in the Kibera slum in the Kenyan capital Nairobi. "My head used to hurt badly, I was weak and dizzy, and I felt sick all the time." She went to the clinic of Doctors without Borders, where she got free treatment.
NCDs, which are also known as chronic diseases, are not passed from person to person. They include cardiovascular diseases (like heart attacks and strokes), cancer, chronic respiratory diseases (such as chronic obstructed pulmonary disease and asthma) and diabetes.
According to the World Health Organization (WHO), NCDs now disproportionately affect developing countries. WHO data indicate that:
NCDs kill 38 million people each year, with 28 million deaths occurring in low- and middle-income countries.
Sixteen million people die "prematurely" before the age of 70; and 82 % of these cases occur in low- and middle-income countries.
Cardiovascular diseases account for most NCD deaths, or 17.5 million people annually, followed by various kinds of cancer (8.2 million), respiratory diseases (4 million), and diabetes (1.5 million). These four categories account for 82% of all NCD deaths.
Tobacco use, physical inactivity, the harmful use of alcohol and unhealthy diets all increase the risk of dying from an NCD.
Through a partnership between the international civil-society organisation Doctors without Borders (MSF) and the Kenyan Ministry of Health, the Kibera South Health Centre was established in 1997. It responds to the non-communicable diseases. Nonetheless, access to medical care for the vulnerable and marginalised people of Kibera remains a challenge, as the centre cannot treat all patients.
Another challenge is to decentralise care. MSF is tackling this matter as well, says Daniel von Rège, its country director: "The Kibera South Health Centre is implementing a task shifting model where care and treatment is handed over to trained personnel." Moreover, a "Medication Adherence Club" has proved successful. It is a club of patients living with NCDs who meet every three months, to help motivate them to stick to their treatment while providing support to others in the same situation.
Grace Atuhaire is a freelance journalist and blog activist from Uganda, currently based in Nairobi, Kenya.
graceseb@gmail.com
Links:
http://www.who.int/mediacentre/factsheets/fs355/en/