Formative years
Privileged, yet stressed out
India's fast growing middle class is characterised by upwardly-mobile masses who live in urban settings or are moving there. Their aspirations are great – especially for their children.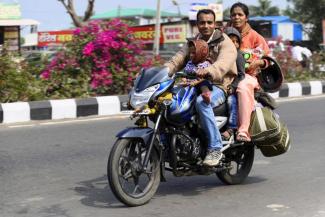 Philippe Lissac/GODONG/Lineair Fotoarchief
Indian middle-class families are typically small. Both parents are busy with their careers, and the children often spend a lot of time with grandparents, if they live in the same city, or with hired help. Of course,
creches are an option too.
"The early years are among the toughest," says Aarti Chibber who runs a creche in Delhi. "If a child comes to me at about 18 months they will stay with me till about five years of age when they start going to school full time." Many parents are a bit uncomfortable with this arrangement. One mother whose three-year-old daughter goes to Chibber's creche admits: "I feel guilty. In the evening, my husband and I try to keep up with her, but sometimes I know I give in to her demands because we are just too tired." She says she works up to 11 hours daily at an advertising agency and that her family needs the money, not least to invest in the child's future.
In India, the average number of children born to a woman over her lifetime has fallen to 2.2. There is a social divide however. Women from the lowest income groups have 3.2 children on average, and the figure for the richest is a mere 1.5.
"Where would one get the resources – time, money, energy – to bring up more than one child in today's world?", asks Ritu Singh, a Delhi-based designer and a mother of one. Her thinking is reflected in a random survey of 1,500 working mothers with single children. It was conducted in 10 cities by the Associated Chambers of Commerce in India. It states: "Job pressures and cost of raising children are key reasons why many mothers want to stop after their first child and decide not to add to their family."
Sonalde Desai, a researcher at the University of Maryland, says that this choice makes sense. Many women want a professional career, and earning money will allow them to spend more on their child's education. The kids are more likely to be enrolled in private schools – and more likely to do basic arithmetic by the time they turn 11.
Nonetheless, single-child households are a small subset of India's population. Most middle class families seem to want two children, preferably a boy and a girl. "Two children can be a handful," says Divya Gupta, a mother of two who runs a small bakery business from home.
"In today's context, when we don't even know our neighbours, a sibling helps fight boredom and loneliness."
Fast-paced lives, hectic schedules and the need to "make up" through consumer goods is typical of India's middle-class parents. The lives of their children, in turn, are marked by electronic gadgets, eating out with friends and minimal outdoor or physical activity. Private tuition matters as well, as the pressure to get good grades is great. Two problems haunt India's middle-class children: obesity and school stress. They are certainly privileged in many ways, but that does not mean their lives are easy.
According to a paper published in The New England Journal of Medicine, 14.4 million Indian children are overweight. Doctors say that the easy availability of calorie-dense food is a cause, but pedantic lifestyles and little outdoor activity matter too. Blistering heat and air pollution add to the problem (see my comment in D+C/E+Z e-Paper 2018/04, p. 14). Middle-class children tend to stay indoors in air-conditioned rooms. In the time they don't need for studying, they are entertained by TV, video games and smartphones.
There are not enough good schools for India's huge population. Middle-class children are generally conditioned to study hard and excel in class from a very young age. Parents want their kids to succeed in life and they know that a good education is essential. College admissions depend on class XII scores. Accordingly, 16 to 18 year old students face particular parental pressure.
When they fail to succeed, suicide may seem to be a way out. According to the National Crime Records Bureau (NCRB), one student commits suicide in India every hour. Moreover, India is notorious for having one of the highest suicide rates in the world for youth aged 15 to 29, accounting for about one third of all suicides in the country.

Roli Mahajan is a freelance journalist based in Delhi.
roli.mahajan@gmail.com