Growth strategy
Incoherent policymaking
Pakistan's exports have recently been in decline, after stagnating for a decade. This is so even though successive governments have been hoping for export-driven development. Now Finance Minister Ishaq Dar is offering new incentives, but observers doubt his quick-fix approach will be successful.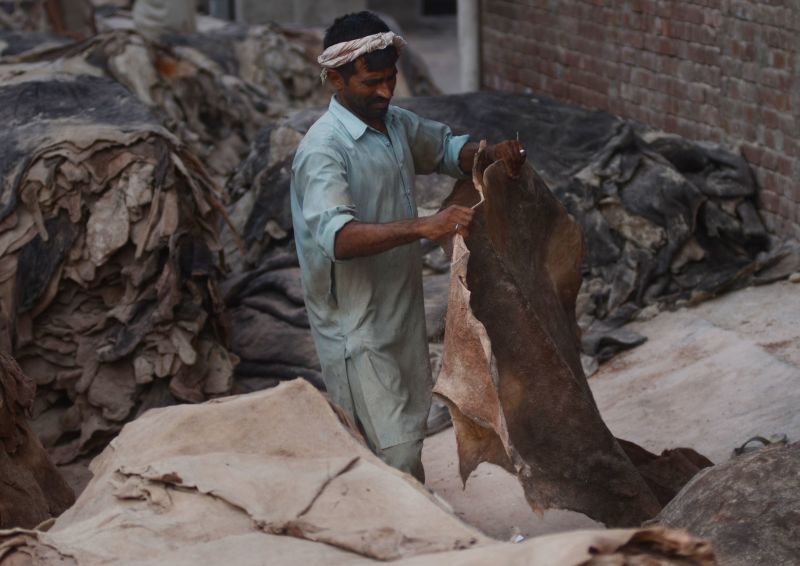 Pacific Press Agency/picture-alliance
Pakistan exported goods worth $ 18 billion from July 2015 to April 2016, the first ten months of the past fiscal year. The figure was 6 billion below target. Finance Minister Dar blamed external forces, as his predecessors were also prone to do whenever things did not go as planned. According to Dar, low commodity prices on world markets and the slowdown in China are the reasons for Pakistan's poorer than expected export performance.
Dar is quick to quote any positive remarks about Pakistan's economy by anyone anywhere, but he does not seem to be paying much attention to other countries himself. In any case, he failed to explain in public why Bangladesh and Vietnam have a better track record concerning export growth.
Dar presented his latest budget in June. It includes incentives for exporters and is likely to be approved by the parliament. The idea is to turn the trend of falling exports around and to boost exports by 10 % in the current financial year which will end in June 2017.
It is noteworthy that the government's approach does not look coherent. In March, Commerce Minister Khurram Dastgir Khan had announced the Strategic Trade Policy Framework 2015-18, aiming to push up Pakistan's annual exports from currently around $ 20 billion to $ 35 billion in 2018. That would imply a rise of 75 % in three years. Dar's aspiration of 10 % annual expansion is quite modest in comparison.
The finance minister has not commented on this discrepancy at all, and that does not surprise anyone who is familiar with how Pakistan's government works. The finance ministry does not adjust its policies to other ministries, it expects them to adjust their plans to the finance ministry. An insider, who understands the budget-making process well, says: "Dar considers himself de facto prime minister or maybe more." Apparently, Dar was told that the Strategic Trade Policy Framework had set more ambitious goals than his budget plans, but the finance minister's only response was to nod and move.
The government's inconsistent approach to exports is baffling. Successive governments have been stating for decades that integration into the global economy is important. That view was shared by Pakistan's elected leaders and the dictators who were brought to power by the military. The commitment to export-led growth is now three decades old.

Paradigm shift under Zia ul Haq
After independence from Britain, Pakistan's governments had pursued a policy of nationalisation and import substitution. The approach changed under the rule of General Zia ul Haq, who turned away from an idea of Islamic socialism and adopted a policy of denationalisation, deregulation and free-market ideology. Ever since, all governments have broadly endorsed this approach, committing to vacate space that is occupied by state-run companies in various sectors, so private business can thrive, and promising to achieve competitiveness in the global economy.
This approach has been backed by western governments and international donor agencies such as the World Bank, the International Monetary Fund and the Asian Development Bank. They did not only provide advice, but also threw in money (aid, grants and soft loans) to assist Pakistan's economic policy. Nonetheless, the results of all efforts to perk up exports have been below expectations so far. In spite of various free-trade and preferential agreements, exports have been hovering in the vicinity of $ 20 billion to $ 24 billion for about a decade and fell below $ 20 billion in the financial year 2015/16. That the EU granted Pakistan the coveted GSP Plus status in its General Scheme of Preferences in 2015 did not make a difference.
In defence of the political leadership, however, one might argue that Pakistan's situation is very difficult. First of all, the security situation is tense and requires attention. Long years of war and strife in Afghanistan have seriously affected Pakistan. Moreover, the scope for expanding regional trade with its neighbours India, China, Afghanistan and Iran is small. The political system has been rocked by domestic crises as well (see box).

New initiative
The finance minister's current approach fits the Pakistani governments' tendency to opt for quick fixes. According to the budget plans, five key sectors will be the main beneficiaries of the measures with which Finance Minister Dar now wants to boost exports. The sectors are textiles, leather, sports goods, carpets and surgical goods. They are expected to be the drivers of export growth. All of them are low-wage, low-skills industries, which shows that Pakistan has not been building a technology base in the past decades.
Dar plans a zero-rate tax regime for them and also wants to offer them tax breaks on the purchase of raw materials, intermediate goods and energy (electric power and fuel). Moreover, the government pledges to settle all pending cases of tax refunds fast.
The irony of the matter is that Pakistan's corporate entities are increasingly fascinated with the potential of the local market. With more than 180 million people, Pakistan is the second most populous country in South Asia, so there is considerable domestic demand. It is obvious, moreover, that the informal economy is thriving. Formal-sector companies that are satisfying consumer demand are also growing fast. The influx of foreign brands is impressive.
Accordingly, the big players in Pakistani business seem to be in a process of reorientation, showing ever more interest in capitalising on the expansion of the domestic market. From textile to cement to food industry the focus now seems to be domestic and not markets overseas. Big names such as Engro, Gul Ahmed, Nishat, Al karam, Khadi, Lucky Cement, K&N, 14th Street Pizza et cetera are all working on strategies to expand locally.
If many corporate leaders think this way, it certainly makes sense in terms of profits. Whether it helps to develop the country, is another matter. It is hard to see how this strategy will make Pakistan's businesses competitive on world markets.

Afshan Subohi is a Pakistani business journalist and works for Dawn, the national newspaper.
asubohi@hotmail.com