Glasses for the poor
A better outlook
Martin Aufmuth, the founder of OneDollarGlasses, has invented a robust and economical visual aid for people in developing countries. The project gets its name from material costs for one unit. They add up to about one dollar.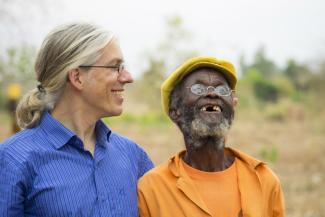 Cüppers
In Southern Africa and Latin America, there are many people who cannot afford a pair of glasses. There are also supply problems and too few opticians. The World Health Organisation WHO believes that around 700 million people worldwide live with uncorrected vision. The consequences are profound: children have learning difficulties, adults are excluded from skilled employment and they struggle to feed their families.
Aufmuth's organisation is already active in eight countries. It recently launched a pilot project with the Else Kröner Fresenius Stiftung (EKFS) in Malawi, where more than a million people are estimated to need glasses. The target for the first year is to meet the of 10,000 of them.
Generally speaking, Aufmuth believes that projects that recycled spectacles by passing them on to other persons have failed. This is because they provide only short-term benefit for recipients. It is almost impossible, he says, to find the right pair of used glasses for all the different forms and degrees of visual impairment. What is more, second-hand glasses are too sensitive to dust; they get scratched so quickly that they are practically unusable within a year. "People see clearly for few months, and then it's all over. I felt that was cynical," says Aufmuth, who took time out from work as a maths and physics teacher to focus on the OneDollarGlasses project.
The social entrepreneur has developed a sustainable concept that includes not just the production of the glasses but also a training programme for what he calls "good-vision agents".  They are local people who take a two-week course to learn how to make the glasses and how to conduct eye tests so they choose the right lenses. Regular opticians require three years of training, but special authorisation can reduce the time span for paramedics.  
The OneDollarGlasses agents produce the spectacles on the spot, using a portable bending machine to bend a metal wire into the right shape for the frame.  All they need to do is click lenses of the right power into the frame – and the glasses are finished. The lenses are manufactured at low costs in advance in Germany with the support of an optician. In theory, they could be manufactured locally but attempts to do so have failed so far because of practical hurdles such as a reliable power supply.
It takes only around ten minutes to make a pair of one dollar glasses. Agents earn money for each pair they make and can make as many as 500 pairs a month. Over time, the opticians become increasingly skilled and can tailor glasses even more closely to patients' needs. They document their work in a patient book, which enables Aufmuth and his colleagues to keep track of developments and successes.
One of the greatest challenges is sensitising people to vision problems in the first place. "Many people do not realise that their vision is impaired," Aufmuth reports. "They are unaware of what can be done about it as well." He believes "outreachers" are just as important as opticians. Outrearchers, he explains, "are local workers who provide information about the glasses available and encourage people to come forward".
In Malawi and many other African countries, OneDollarGlasses cost only a fraction of the price of similar models sold in local shops. Because city dwellers generally have a substantially higher income than people in rural areas, pricing is sometimes difficult. The price is about three days' wages of the poorest earners. Aufmuth is considering a cross-subsidy, charging urban people more in order to make the glasses even more affordable in rural areas. The organisation needs around € 4 million to provide spectacles for everyone with impaired vision in Malawi.
The OneDollarGlasses organisation still depends on start-up donations to cover material and preparatory costs. Part of that funding is provided by EKFS in Malawi. "In the long run, though, the project is intended to be self-supporting," Aufmuth says. His primary goal is to solve social problems; he does not speculate on high profits.
Jana Jagalski
Link:
http://www.eindollarbrille.de/