Press freedom
Jailing journalists
Ethiopia ranks second in the list of countries with journalists in jail, says research published in December 2014 by the international media NGO "Committee to Protect Journalists" (CPJ). According to the document, after a state crackdown on independent publications and bloggers the number of journalists imprisoned rose from seven in the previous year to 17, and several journalists were prompted to flee into exile.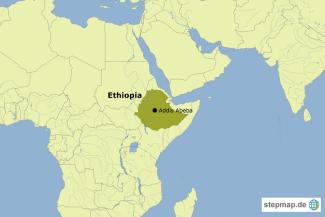 stepmap.de
Ethiopian journalists are routinely threatened, and media workers fear the government-controlled judicial system, says Tom Rhodes, East Africa Representative of CPJ. Journalism has become a highly precarious profession in Ethiopia, so journalists shy away from writing critically about the ruling party or tackling sensitive topics such as protests.
In its World Press Freedom Index for 2015, the international media NGO "Reporters without Borders" ranks Ethiopia as number 142 of 180 countries. Neighbouring Eritrea is number 180, with the worst record regarding free media.
Rhodes says that there is little that media houses working in the country can do to ensure press freedom since they are routinely harassed by the state. The only hope is for a professional news service to develop in the diaspora. At the moment, however, the information people get is always biased. Ethiopian journalists working in exile tend to support the opposition, while those working in the country must support the government.
Ethiopia also suffers from some of the lowest gender equality performance indicators in sub-Saharan Africa. While progress has been made regarding several of the Millennium Development Goals (MDGs), the country is lagging behind in MDG 3, "Promote Gender Equality & Empower Women". The Global Gender Gap Report 2014 of the World Economic Forum ranks Ethiopia at 127 out of 142 countries in terms of the magnitude and scope of gender disparities.
This has implications also for women journalists – the challenge being that the media is highly male dominated. "Men talk and make decisions. Women have only nominal representation that doesn't really bring significant change," says Helen Yosef, a journalist from Ethiopia. "Women are in the periphery; there is no space for women to grow in the media environment."
According to Helen Yosef, media houses have to adjust their pay grade, help with professional development and give more on-the-job training opportunities to female journalists. Strengthening gender parity is particularly required at the decision making level.
Grace Atuhaire is a freelance journalist and blog activist from Uganda, currently based in Nairobi, Kenya.
graceseb@gmail.com
Links:
Committee to Protect Journalists:
http://cpj.org/reports/2014/12/journalists-in-prison-china-is-worlds-worst-jailer.php
Reporter without Borders: World Press Freedom Index for 2015.
http://index.rsf.org/#!/
World Economic Forum: Global Gender Gap Report 2014.
http://reports.weforum.org/global-gender-gap-report-2014/