Easter Island
Song of home
When Mahani Teave, a Chilean pianist originally from Easter Island, left home at the age of nine, she aimed for an international musical career.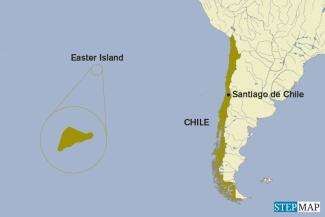 stepmap.de
And she succeeded: After earning her music degree in mainland Chile at the age of 17 and continuing her training in the United States and Germany, Teave established herself as one of the most outstanding Latin American pianists of her generation.
But something was missing. Even at the best moments of her career in Europe, she thought of home. "I felt the weight of the island," she recalls. "There were no pianos there. I thought, 'What about the future of the island's talented children?' "
Two decades after leaving the island, Teave followed that impulse. In 2012 she returned and opened a music school with the help of donors and friends. For the first time, Easter Island had pianos and instruction for musically talented kids. The new school was called Toki Rapa Nui. The word "Toki", of Japanese origin, means "time of opportunity", and "Rapa Nui" is the name for Easter Island in the indigenous Polynesian language.
The move back to Easter Island was the fulfilment of a dream, but also a huge cultural change. After years as an international pianist, Teave returned to one of the most isolated inhabited spots on Earth. Easter Island, with about 7,750 residents, is a volcanic island in the South Pacific ocean, 3,700 kilometres west of Chile. It is a 5.5 hour flight from Santiago on the mainland.
Easter Island is mainly known for nearly 900 monumental statues called moai – carved human figures with oversized heads created during the 13th–16th centuries. It became a UNESCO World Heritage Site in 1995, with much of its territory protected within the Rapa Nui National Park.
The island, which was annexed by Chile in 1888, lives mainly from tourism. Many of its young people, lacking opportunities on the island, go to the mainland for education and careers.
As a result, the native Rapa Nui culture is struggling to survive. It is this risk that Teave decided to address. By moving to the mainland at an early age, "I skipped a lot of stages in my adolescence," she recalls. She hopes her music school will enable its approximately 100 students to develop their talents while remaining in their own culture.
Running the school – which in the meantime has become an NGO with additional activities in environmental protection – demands Teave's full attention. Concerts and travel abroad are largely off the agenda.  Yet an international audience still beckons: Teave's first album, "Rapa Nui Odyssey", released this year, earned a high rating on the US's Billboard charts. The documentary film "Song of Rapa Nui", which tells Teave's story, received an Emmy nomination.
All income from the album and documentary go to the music school, Teave says. Despite having traveled the world, she has never doubted that Rapa Nui is her true place on earth.

Javier A. Cisterna Figueroa is a Chilean journalist based in Concepción.
cisternafigueroa@gmail.com