Social Media
Join us to discuss global development
Why you should follow us on LinkedIn, Facebook and Twitter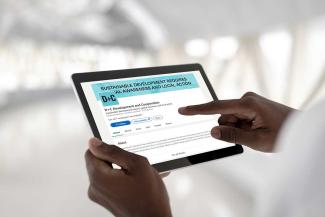 Rawpixel.com - stock.adobe.com
At D+C, we discuss what needs to happen to bring about sustainable development. We're proud to work with contributors from all over the world who report from their respective countries. Global problems require global discussion. And for a truly global discussion, we need your input. Follow us on LinkedIn, Facebook and Twitter and share your opinion with us!
What is in it for you
Discussion and exchange help understand other perspectives and broaden the horizon. Discussing things – in a civilized manner – is more than necessary these days, given that the world is facing enormous challenges that can only be tackled in a joint effort. Talking about things is thus not an end in itself. Ultimately, it can contribute to closer cooperation and better solutions.
It is easy to learn from each other. And it has never been easier to reach out to (fellow) experts and professionals. We hope to create this kind of exchange on LinkedIn. Join us there and feel free to start a conversation!