Nigeria
Women give birth on the floor
Nigeria is an example of just how poor conditions in an African health-care system can be. Such conditions lead to the emigration of desperately needed medical professionals.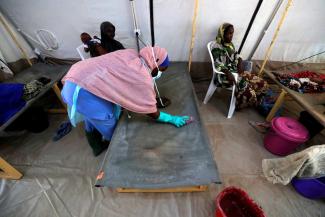 picture-alliance/REUTERS/Christophe Van Der Perre
With around 216 million people, Nigeria is Africa's most populous country. Of the 81,000 medical doctors who graduated from the country's universities in the past decade, only about half are practising in Nigeria, according to the national medical association. On average they are responsible for 5000 people. Most work in the large metropolitan areas of Lagos, Kano and Ibadan.
In rural areas, like the state of Zamfara in the north-west, the shortage of health staff is severe. Zamfara has a population of about three million but was home to just 46 physicians in 2019. That is two doctors for every 100,000 people. Today, Nigeria would need at least 300,000 additional doctors and nurses to achieve the health-related Sustainable Development Goals.
There is no lack of medical students at the country's over 200 universities. However, Nigeria does not offer graduates good working conditions, so about half of them leave. The situation is similar in many other African countries.
After seven years of expensive education, a doctor who works in a state-run hospital in Nigeria earns about $ 7200 per year. South Africa beckons with $ 50,000, and the US with as much as $ 200,000.
Moreover, equipment and medication tend to be lacking – and even safe drinking water can often not be taken for granted. Hospitals experience frequent power outages. Nigeria only has five hospital beds per 10,000 inhabitants. Women give birth on hospital floors and the sick are packed into poorly ventilated rooms. Nigeria's oil wealth and the size of its economy have done nothing to change this.
Everywhere in Africa, the desire of medical personnel to improve the well-being of the local people clashes with the inaction of government agencies. The tension often leads to strikes. From August to October 2021, for example, the Nigerian Association of Resident Doctors (NARD) paralysed the health care system, demanding more public investments.
Samir Abi is an economist and director of the non-governmental organisation Visions Solidaires in Togo.
samirvstg@gmail.com