Working life
Vocational education for girls in Uganda
In Uganda, many obstacles prevent young women from getting a proper education. A social enterprise aims to facilitate girls' access to vocational training.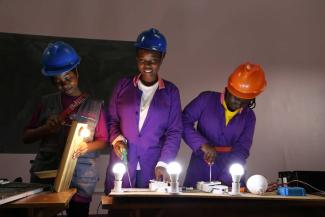 jd
When it comes to education, girls and women are discriminated against in many parts of the world. Uganda is no different, although the government has made efforts to enable good education for all (see box). Additionally, civil-society organisations and social enterprises are striving to make a change.
The Smart Girls Foundation, a social enterprise located in Uganda's capital Kampala, runs a programme which provides vocational education to girls in order to allow them to find meaningful employment. "Our 'Girls With Tools' programme is unique because it trains females in careers that are considered to be for males," says Jamila Mayanja, the founder and director of the Smart Girls Foundation.
Key areas include machinery welding, automotive mechanics, electric installation, carpentry, construction and home painting. The programme also has courses in traditional arts and craft skills like tailoring and basket weaving. "On top of the technical-skills training courses, our girls also get additional workshop trainings that include entrepreneurship, life skills, gender issues and financial literacy. We also partner them with local workshops and garages to provide them with job opportunities and encourage them to start their own businesses in these sectors once they have completed the course," Jamila Mayanja says.
The programme runs cohorts of 100 to 200 young women. The curriculum runs for six months to one year, after which the girls are helped to find an internship. That is often their first employment experience.
New training facility
Tuition fees for the programme are paid by families that can afford them, while scholarships are provided for girls that can't afford the costs. In 2019, Girls With Tools received funding from a local telecommunications company, MTN Uganda, to support enrolment of more girls into the programme. The MTN Foundation facilitated the setup of a new training facility to train 400 girls annually. The facility has a service bay, a washing bay and a classroom block as well as a computer lab. The foundation hopes that this investment will lead to 40 new women-led businesses per year.
32-year-old Nakijjoba Sharifah is an engineering and mechanical works student at the programme. "I have for long admired engineering work, and thanks to Girls With Tools, I can pursue that dream," she says. "Whereas most people consider this a job for men, the new generation is changing this perception," she adds.
Sharifah says that doing engineering work is her way of proving to society that women can do much more than housework. "With my experience now, I can do what any man can do. I love what I do, and I expect that my life will be better soon," she says.
Pursuing a "masculine career"
21-year-old Khayinza Shalom is taking a course in electrical installation. She remembers that when she decided to do the course, she got a lot of negative feedback from her family and friends who criticised that she was pursuing a "masculine career". "Here at the Foundation, when I met other girls and women doing these jobs, I got motivation. I had to shut out these negative voices," she says.
One year down the road, Khayinza Shalom has already made some money working on domestic electrical installations and repairs. She has even co-founded a local company called "Solar Girls Africa" which invents new solar-powered appliances. She hopes that she will be able to contribute to the wide usage of clean energy in Uganda and thus help reduce the country's carbon emissions. Shalom encourages other girls to step up and get involved in careers formerly considered to be for men. For her, this is the only way they will change the gender bias at work.
Smart solar bags
Smart Girls Foundation also addresses issues that keep girls away from school. Menstruation is one example. The tailoring class is manufacturing reusable sanitary towels made from locally available materials, which are distributed to the girls attending the programme. These cost less than the single use synthetic sanitary towels available on the market.
The programme is also producing a storage backpack in which the young women can keep their reusable sanitary towels. "It is helpful in instances when the girls cannot access wash facilities. They can safely store away these sanitary items," Jamila Mayanja says. She adds that the backpack has transformed from a cloth bag into an eco-friendly item made from recycled plastic. The new material can better withstand Uganda's tropical climate, especially on rainy days.
Most of the girls who use the backpack are from poor backgrounds, so their access to electricity is limited too. The bag therefore also comes with a rechargeable solar light. The girls can charge it during daytime and use it to light their way home or to study in the evening hours.
The backpack, the reusable sanitary towels as well as other items such as electric desk lamps are available for sale at the foundation's offices. The revenue supports the work of the foundation.
Some of the graduates have already gained employment in Uganda. Nabatanzi Flavia, 24 years old, used to be an electrical engineer trainee at the programme. She now has gotten a full-time job at a global machinery engineering firm, Mantrac Limited, which supplies and services power generators. She attributes her placement to Smart Girls Foundation which helped her gain marketable skills.
The Girls With Tools programme contributes in various ways to the UN's Sustainable Development Goals (SDGs). SDG4, for example, aims to "ensure inclusive and equitable quality education and to promote life-long learning opportunities for all". The programme also contributes to SDG8: "promote sustained, inclusive and sustainable economic growth, full and productive employment and decent work for all".
Ronald Ssegujja Ssekandi is a Ugandan author and edits D+C/E+Z's Nowadays column.
sekandiron@gmail.com