Gender justice
What keeps girls out of school
In the past two decades, Uganda has made strides to promote universal access to education. The country runs a free primary and secondary school initiative, which also strives to reduce overall costs involved in educating children. However, this programme has not been entirely successful. Education remains largely a privilege for those who can afford it.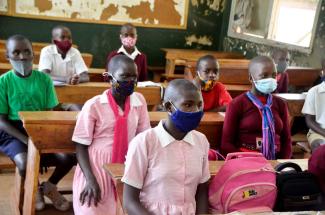 picture-alliance/Xinhua News Agency/Nicholas Kajoba
Girls tend to be especially disadvantaged. Of the several traditional cultures in Uganda, many used to look at girls as mere brides and reduce their skills development to domestic labour. Over the years, efforts have been made to eliminate gender discrimination, but progress remains slow. One important issue is the lack of access to menstrual-hygiene tools such as sanitary towels. It prevents girls from attending school regularly, especially those from poor households.
Moreover, early pregnancy matters. According to Uganda's ministry of health, about one-quarter of young women become pregnant before they are 20 years old. Covid-19 apparently made things worse. A study by the Forum For African Women Educationalists (FAWE), a civil-society organisation, found that during Uganda's first lockdown, between March and June 2020, pregnancy among girls aged 15 to 19 increased by more than 25 % and even more than tripled for those aged 10 to 14.
High poverty rates
Poverty is one of the main causes of unequal access to education for girls. While access to primary and secondary education is basically free, many poorly funded public schools still find a way to charge non-tuition fees, for example for meals or special schools events. Moreover, learners must bear the costs for school supplies such as books, pens and school uniform clothing.
Families lacking resources traditionally prioritise boys over girls when it comes to education. The latter are then expected to do domestic chores as they prepare for marriage. The Global Partnership for Education, a multi-stakeholder funding platform, reports that especially in rural areas, local traditions dictate that girls can be married off for a sum of money, which is given to the daughter's family as payment. This "bride price" is an incentive for families to reduce women and girls to a marketable commodity.
Outside the established formal education system, vocational education offers a chance to gain skills for practical jobs (see main text). It is usually related to a specific trade, occupation or vocation. In Uganda, a Technical and Vocational Education and Training (TVET) policy was designed in 2019 to address the country's skilling challenges by training Ugandans in vocational skills to prepare them for the job market. Emphasising vocational education is seen as a solution that will produce job creators rather than job seekers. In Uganda, 19.8 % of young people are not in employment, education or training, according to the International Labour Organization (ILO).
Link
Research Findings of the Forum For African Women Educationalists (FAWE), Uganda Chapter, 2021:
https://faweuganda.org/wp-content/uploads/2022/02/COVID-19-Impact-Study-on-Girls-and-Women-Report-2020.pdf
Ronald Ssegujja Ssekandi is a Ugandan author and edits D+C/E+Z's Nowadays column.
sekandiron@gmail.com