Education and contraception
Self-determined life for women
While access to contraceptives has improved for many people over the last few years, there is still an immense need for modern family planning in developing countries. Young women, in particular, find it difficult to obtain age-appropriate information and contraceptives. They face a variety of obstacles.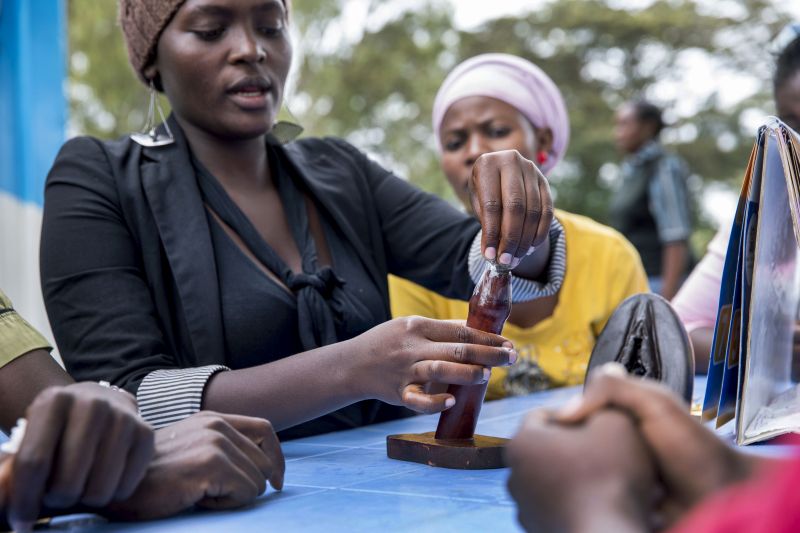 Jonathan Torgovnik
In 2017, 214 million women and girls in developing countries are unable to use contraception, even if they wanted to. These women and girls are usually poor and young. They have a low level of education and live in rural areas. The reasons they lack access to contraception include:
restrictive societal norms and traditions, including gender inequality;
disadvantages for young people;
unfavorable political and legal conditions;  
a lack of diversity of high-quality contraceptives and related services;
personal reservations and insufficient knowledge of what contraceptives exist and how they work; and  
lack of funding.
Dubious programmes continue to discredit the idea of family planning in many countries. There are degrees of "voluntary" participation. In India several years ago, money and gifts were granted to the participants of a mass sterilisation project, and in one case there was even a lottery, with the main winner getting a car. These issues distract from personal reasons to have or not to have children. In China too, there are similar reports of contraceptive methods being promoted forcefully. Some programmes violate the basic rights of free choice and physical integrity and are therefore plainly unacceptable.   

Restrictive norms and traditions
Gender inequality is one of the greatest obstacles in accessing family planning. Girls are often raised to be passive. They are neither made aware of their rights nor of their own sexual and reproductive health. If they try to discuss sexual relations, address contraception or even dare to refuse sex, they frequently meet resistance on the part of their parents and male partners. 
In many countries, unmarried people tend not to have access to family-planning services. They should get such access. All too often, families and society in general expect a marriage to produce many children. Some societies only value male offspring, however, so couples continue having children until at least one son is born. Lacking a social safety net, they need a large number of children in order to be taken care of in old age.
In societies that are shaped by religion, children are considered to be a "gift from God". Family planning is thus out of the question.
For access to family planning to become universal, women and girls need equal rights. A woman must be able to make her own decisions about how many children she will have and when she will have them. Otherwise, she cannot live a self-determined life and will be unable to contribute fully to the economic development of her country. Governments of both industrialised and developing countries need to become more engaged in facilitating universal access to contraceptives. 
For the sake of equal rights, it is especially important to get men and boys involved in family-planning. They play a major role in letting women and girls make family planning decisions. Men can use contraceptives. They can support their female partners, reject the use of violence and promote the equality of the sexes. Entire communities, including political and religious leaders in particular, must get involved in order to bring about lasting change.

Disadvantaged young people
Young people in developing countries – especially young women and girls – struggle to obtain age-appropriate information about sexuality, contraception and birth control. Comprehensive sexual education is indispensable however.  It should start at age 10. The need for action is immense, because school curricula often do not include this kind of education. Even if the topic is discussed, it is usually not done in an adequate way. Studies have shown that teachers are frequently unable to deal with this topic, either because there is not enough time, they lack materials, or they are not sufficiently educated themselves. It is essential to train teachers so they feel comfortable discussing sexuality and contraception with students in an age-appropriate, factually correct and non-judgmental manner.
Deutsche Stiftung Weltbevölkerung (DSW) ran two projects in Kenya and Uganda. They have shown how important comprehensive sexual education is in schools. In many elementary schools, 10 to 14 year old students were already obtaining age-appropriate information about sexuality and contraception. The unique approach of DSW was to involve the students' entire social environment, including parents, teachers, local authorities and health workers. This approach has proven to be very effective. Teachers have reported that the project schools are seeing fewer pregnancies and pregnancy-related dropouts.
Throughout the world, about 62 million girls do not attend school. And many of those who do go to school are likely to drop out soon without getting any sexual education. Sex education must improve for both boys and girls, and it is important to create new and better opportunities for comprehensive sexual education beyond schools.

Personal reasons
When asked why they do not use contraceptives in spite of not wanting to get pregnant, many women say that
contraception would damage their health (for example, due to the side effects of the method);
they do not believe they are able to conceive at the given time; or
they (or their families) oppose the prevention of conception in principle.
In order to fight such beliefs, women and girls need better information concerning the risk of pregnancy as well as the entire range of conception-preventing options and their uses. Women need access to a variety of contraceptives, so they can choose a suitable option. Relevant criteria include using contraceptives independently of their partner or without health concerns.  
Sexual and reproductive health and rights do not rank high among the priorities of major international donors and governments of developing countries. Despite wordy declarations of the intention to improve the health situation of women, men and children, nothing much is being done. This trend is evident in insufficient funding for family planning.
To enable all women and girls to exercise their right to family planning, the international community must fill a gap of $ 5.5 billion ( Singh et al., 2014). However, the prospects for doing so have recently decreased. Immediately after taking office, US-President Donald Trump reintroduced the so-called Global Gag Rule. This policy completely eliminates US funding for any aid organisation that offers abortion, advocates its legalisation or advises women on the subject of pregnancy termination. Funding for services that have nothing to do with abortion has been discontinued too. Moreover, the USA  has completely cut its contributions to the UN Population Fund (UNFPA). The most urgent issue is thus to fill the funding gap that has resulted from Trump's decisions. 
The 15th Development Report of Germany's Federal Government was recently released. It devotes no more than two paragraphs to maternal health and self-determined family planning, and thus does not even come close to doing the topic justice. The Federal Government should emphasise this issue more, and it should increase its UNFPA contributions.


Renate Bähr is the executive manager of Deutsche Stiftung Weltbevölkerung (DSW). The goal of this internationally active development organisation is to provide all people – in particular, young people – with access to sexual and reproductive health and rights.
renate.baehr@dsw.org
https://www.dsw.org/

Link
Singh, S. et al., 2014: Adding it up. The costs and benefits of investing in sexual and reproductive health.
https://www.guttmacher.org/sites/default/files/report_pdf/addingitup2014.pdf