Civil war
Children of war as breadwinners
As South Sudan's civil war enters its fourth year, children are struggling to bear the most staggering costs of the war. Many are orphaned, and older children assume responsibility for their younger siblings.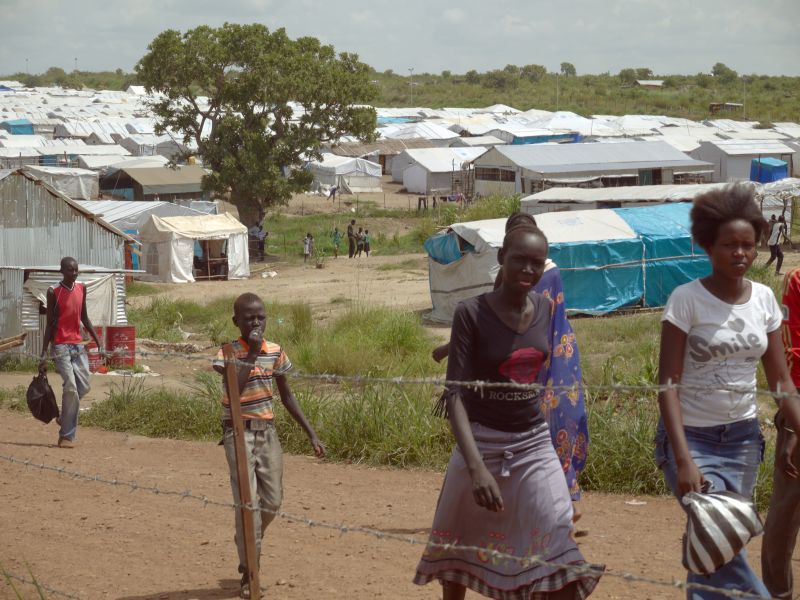 Sinikka Tarvainen/picture-alliance/dpa
Kamisa Nyagoa, a South Sudanese teenager from the northern town of Bentiu, wakes up at 6 am to prepare her four siblings for the day ahead. She washes, dresses, and feeds them before sending them to school. While they are at school she must look for work to help finance her family. She assumed the parental role of the family when their mother died in 2016. "We were always my mother's top priority," Nyagoa recalls. "My mother said I would have to look after the little ones if anything ever happened to her. So this is my promise and gift to my mum," Nyagoa says.
According to Nyagoa, the hardest part is managing her own grief, with that of her siblings. She is 13 years old. Orphaned at a young age, Nyagoa's determination is to keep the rest of her family intact. "I have to stay strong for my siblings and to keep my family's name," she maintains.
In South Sudan, Nyagoa's circumstances have become all too common. Many youths must take on a parental role. The war has left many orphaned or abandoned by their extended families (see background box).

Child breadwinners
Jima Deng, a 15-year-old boy, became the sole breadwinner for his younger siblings when he lost his parents at the outbreak of the civil war four years ago. Deng and his three siblings went to live with their maternal uncle, who was supposed to take care of them. They attended a local primary school in the northern town of Bor in Jonglei state.
However, Deng's uncle was very poor. It turned out that he was unable to feed four young kids, so he expelled the children from his home. "Ever since we lost our parents, none of our relatives have been supportive," Deng reports. "My uncle – despite his promises – turned his back on us." Life becomes especially hard when the youngster is sick and cannot earn money for his brothers and sisters.
Deng is currently working as a waiter in Konyokonyo, the busiest market in Juba, the capital city. He and his siblings live in a tent-like hut made of poles and plastic bags in Mahad, one of the camps for displaced people. He feels safer here than outside the camp. Another advantage is that "all my siblings attend school here". Deng expresses the hope that the future will be better.
Nyon Manyok, a 17-year-old orphan, is not so optimistic. She has to take care of her five younger brothers and sisters. "The burden is too much on my shoulders; life is unfair," Manyok says. She shares a one-room mud shanty with her siblings in Juba. The monthly rent is 2000 South Sudanese pounds (approximately $ 10).
The family used to live in Yei, in the south of the country. Their house was burned and the parents were killed when the war engulfed that region. Manyok was displaced with her siblings when fighting between rebel forces and government troops flared up again in 2016. They fled to Juba.
Manyok dropped out of school to take care of her brothers and sisters. "I see no future – I am not in school and my siblings need my support. This responsibility does not allow me to do anything to improve my life," she says. She remains in a precarious situation with having to look for odd jobs to help sustain her family's needs. Like other under-age household heads, she is rising to a responsibility that is beyond her capacity.
Many orphans have been left at the mercy of churches or international organisations to assist them with their day-to-day needs. Thirteen year old Sunday Lam Ojuk is an example. He recounts that his mother, who was the family's breadwinner, was tortured to death by an armed group. Lam was left behind with two younger siblings aged 10 and 7. He is now their sole guardian. "There was no one but myself to take care of them," he says. "If I had not assumed my parents' responsibility, nobody would provide for them."
Lam and his brothers – like thousands of other internal displaced persons (IDPs) – live in a so-called Protection of Civilians site (PoC). It is run by the United Nations. They receive food rations and clean water, as well as psychological support. Not every­thing is well, however. "Although the UN is providing food, it is never enough. Most people have no hope for better lives," Lam complains. "We are tired of war. Many of us children here don't go to school." He feels that his sibling's future will be jeopardised "if we stay here in this camp much longer."
Despite being in a desperate situation, Lam likes to study and hopes to become a medical doctor. "I will study if circumstances allow me," he says. He and his brothers intend to go back to their hometown of Magwi, 60 miles south of the capital Juba, as soon as a lasting peace is achieved in the country. "Without peace, we cannot go back home."

Parach Mach is a journalist and lives in Juba, South Sudan.