Networking beyond the UNFCCC
A more holistic approach
Traditional knowledge is relevant for protecting both biodiversity and the climate. A new UN body will promote the cause.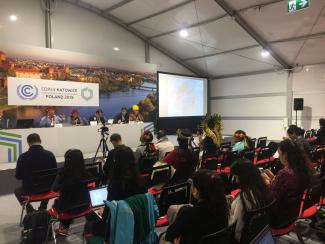 Carmen Josse
Indigenous peoples do not even account for five percent of world's population, according to the UN, but they protect 80 % of global biodiversity. They also have a role to play in climate protection (see main story), so it is good news that a new platform has been set up to represent their concerns in the context of the UN Framework Convention on Climate Change (UNFCCC). It is called the Local Communities and Indigenous Peoples (LCIP) Platform and was created four years ago.
Selection processes are currently underway to nominate 14 members to an LCIP working group. Their job will be to draft a plan for the full implementation of the LCIP, based on equality and partnership. Half of the group will consist of representatives of indigenous peoples, and the other half will be government officials. Ghazali Ohorella, a member of the Indigenous Global Caucus, expects the group's first meeting to take place in June. 
"Full, effective, direct and meaningful input from indigenous peoples will likely result in better policies as it would ensure sustainable strategies and increase the level of expertise," Ohorella says. "The platform is more than a learning and knowledge-sharing platform." It will be empowered to cooperate with other UNFCCC entities as well as institutions beyond it.
Terence Hay-Edie is an officer of the UN Development Programme who cooperates with indigenous peoples. He finds it promising that the LCIP has been set up and is now making progress fast. He has been observing conferences of parties both in the context of the UNFCCC and the Convention of Biological Diversity. Hay-Edie appreciates that the role of grassroots communities is increasingly accepted in both contexts and adds:
"Most indigenous cosmologies do not make these artificial distinctions and call for a more holistic approach."

Fatima Arkin is a freelance journalist based in Manila. A previous version of this article appeared on scidev.net.
Twitter: @FatimaA8