Sports
Football for peace
The UN Mission in South Sudan (UNMISS) has come up with a sports competition to promote peacebuilding efforts and to combat sectarian divides, tribalism and violence. South Sudan became an independent country in 2011, but is ravaged by civil war.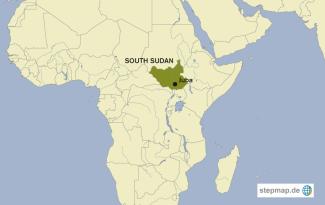 stepmap.de
Four university clubs from different parts of the country participated in the football competition in March. The idea was to foster peace and unity among the local youths. The tournament served to show that young people from different South Sudanese tribes, who are often manipulated by the country's political class in order to cause chaos, can live in peace.
"Sport can be a powerful tool for building peace. The United Nations are using sports to teach young people tolerance, cooperation and respect,"  said David Shearer, special representative of the UN secretary-general in South Sudan, during the opening of the football tournament: "Sport plays an important role in restoring peace in communities."
Ruben Dot Angu, who studies computer science, was one of several hundred participants. "I feel a sense of love," he said, pointing out that sports can be a viable means to address tribalism, violence and disunity.  He expressed his hope that social cohesion and national unity "can be achieved through the promotion of sporting activities". According to Dot, ethnic and sectarian strife can be eradicated if the citizens of South Sudan come together regularly in a convivial atmosphere to engage in sports competitions.
Edmund Yakani is the director of the Community Empowerment and Progress Organization (CEPO), an independent outfit. He says that youth represent the most vibrant section of the society:  "They play an important role in socio-economic changes and development of our country, and we can only progress when their energy is channelled towards constructive activity such as sport." Yakani finds it encouraging that the UN is helping young people in South Sudan learn "the spirit of tolerance".
Women's activist Adut Margret Deng from Jonglei State, in the east of the country, is a strong supporter of sports competitions: "We bring local youth together, and youth can eventually help to lead national cohesion." She calls on South Sudanese youth to shun tribalism which she considers to be a "major enemy of development". She argues that young persons are often used as pawns in the conflict and incited to violence. "They need to come up with initiatives that encourage peaceful coexistence," she says. 
Oral Lam Yien, South Sudan's minister of higher education, says the government appreciates sports as a "way of finding peace."

Parach Mach is a journalist and lives in Juba, South Sudan.
parachmach@gmail.com