Elections
In May, Filipino democracy may heal – or die
After the disastrous six-year term of President Rodrigo Duterte, Filipinos will elect a new head of state on 9 May. There is a chance of competent leadership – but it is also possible that children of the country's worst strongmen since independence will rise to the presidency and the vice presidency.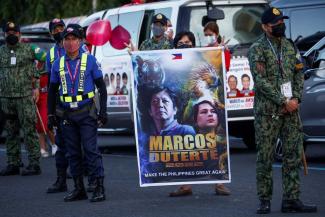 picture alliance / EPA / ROLEX DELA PENA
People in the Philippines are eager to vote. When it was time to register for the presidential elections last year, they stood in crowded lines for hours in spite of the coronavirus threat. Election officials had expected 59 million citizens to show up, but 65 million did. The big question is, who will they vote for? 
The election in 2016 resulted in a disaster. Rodrigo Duterte became president. The foul-mouthed, crude and brutish authoritarian only convinced 16.6 million of 55.7 million voters, but no other candidate had a better result. He took office and ran the country into the rocks. His extrajudicial war on drugs has cost at least 12.000 lives, mostly of poor urban people, according to Human Rights Watch, the international non-governmental organisation. He has eviscerated democratic institutions, weakened the economy and mismanaged the country's response to the Covid-19 pandemic. At the same time, he looked the other way as Chinese forces encroached on Philippine territory in the South China Sea. 
When he ran for president, Duterte's populist promise was: "Change is coming". He claimed he would crush crime, solve corruption and end drug trafficking within six months. None of it came true. The 77-year old Duterte proved to be very much what Filipinos contemptuously call a "trapo" –  a traditional politician. He appointed unqualified cronies to lucrative posts, did nothing while corruption scandals erupted around him and used the laws for his personal vendettas. 
His style of leadership included missing public ceremonies and airing videos of him incoherently berating the public. Once he advised Filipinos to soak their face masks in gasoline or diesel oil to prevent Covid-19. In most ways, he was worse than previous presidents, but he did excel in one area: Never before were social media used so systematically to spread disinformation, fear and hate (see my comment on www.dandc.eu).
Duterte's armies of internet trolls will certainly figure in the coming election. Two major contenders currently seem to be possible Duterte successors: current Vice President Leni Robredo and Ferdinand "Bongbong" Marcos Jr., the son of the former dictator. 
Robredo is a calm and inspiring leader. She is a lawyer, but also has an economics degree and has been in government service since 1997. Strictly speaking, the job of the vice president is simply to stand by in case something should happen to the president. Robredo nonetheless managed to use her office to speak out against Duterte, which obviously earned her his hostility. Without Duterte's support she organised well-run disaster relief operations and an efficient Covid response programme. Most likely, she will face vicious online attacks. 
By contrast, Marcos junior, 64, is amazingly unqualified. His main distinction is that he is the only son of a brutal strongman who ruled the Philippines for 14 years. Thousands were murdered and tortured on his watch, and his loot amounted to billions of dollars. Marcos Jr. claimed to have graduated from Oxford University, but this was exposed as false. He only finished high school.  
His running mate Sara Duterte-Carpio is the current president's daughter. Should they win, they would continue the legacy of the two most brutal leaders the independent Philippines have ever had.
Disinformation funded with Marcos has made many people believe that the years under military rule  were some kind of golden era. In January, polls showed the Marcos tandem far ahead, favoured by 60 % of respondents. However, the situation is volatile and election surprises have happened in the past. It is telling that Marcos' campaign managers are steering him away from debates – they know he is incoherent and vacuous. 
Whether democracy will heal or die is the question that makes the election outcome nail-bitingly tense. 

Alan C. Robles is a freelance journalist based in Manila.
Twitter: https://twitter.com/hotmanila