Rohingya minority
A history of persecution
The Rohingya are a religious and ethnic minority. They are mostly Muslim and traditionally live in Myanmar's northern state of Rakhine (previously Arakan).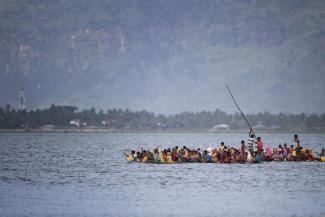 A. M. Ahad/picture-alliance/AP Photo
Their presence there has been documented over centuries. Nonetheless, the government of Myanmar generally denies that they are citizens and calls them "Bengalis". The Rohingya language is related to, but different from Bengali.
Anti-Rohingya pogroms have made people flee in the past – for instance in 1978 and 1991/92. The current influx of refugees is unprecedented nonetheless. International agencies, including a UN fact-finding mission, speak of genocidal violence raging in Myanmar in view of killings, torture, rape and forced labour. At least 720,000 Rohingya sought asylum in the country within few months. Currently, Bangladesh is housing about a million Rohingya refugees in camps near the south-eastern border (see main story).
In Myanmar, Rohingya are also subjected to discrimination in education, employment, health care and religious practices. The Myanmar government denies all accusations, rejecting them as biased and politically motivated.
With 1200 people per square kilometre, Bangladesh is one of the world's most densely populated countries. The average annual income is currently the equivalent of $ 1751, according to the government. Despite big problems of its own, the country showed a rare example of humanitarianism by hosting a million refugees. (rh/aa)