Entrepreneurship
A rising tide of hope
Hakainde Hichilema was finally elected president of Zambia in August 2021 after unsuccessfully contesting five previous elections. Hichilema – a cattle rancher, businessman and politician representing the United Party for National Development (UPND) – unseated the long-entrenched Patriotic Front (PF) regime by winning 59 % of the vote. He defeated former President Edgar Lungu by over a million votes.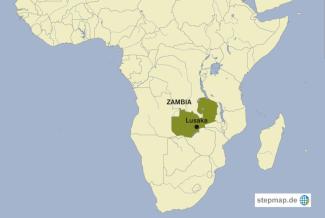 stepmap.de
Voters across the country were jubilant after Hichilema won the election. Entrepreneurs in particular are pinning their hopes on Hichilema's promises to revive the economy. The new president is popularly known as "HH" or as "Bally", an informal way to address a person as one's father.
In the run-up to the election voters had grown disenchanted with the Patriotic Front. The previous regime took office in 2011 promising to cut taxes and foster job creation. But it largely failed to deliver on those promises.
Disappointment with the PF was especially strong among entrepreneurs. Many of them accused the former regime of extorting illegal levies from small businesspeople such as market traders and bus owners. Critics pointed to rampant corruption under the PF, which slowed economic activity.
One such critic is Morgan Chibuye, a bus driver at Lusaka's intercity bus station. "The PF regime made our business unattractive," he says. "If a bus driver refused to pay off thugs posting as revenue collectors, he was blacklisted and prevented from loading his bus. This discouraged bus owners from entering or staying in the business."
Entrepreneurs and local officials expect this situation to improve soon under the new government. "The new government's policy direction will enable the City Council to collect revenues properly," says Alex Mwansa, town clerk of the Lusaka City Council. "This will help us to maintain the bus terminal."
Other sectors also suffered under the former regime. Extortion used to be a daily burden, says Sara Mofya, a mobile money agent at the Kamwala market in Lusaka, Zambia's capital and largest city. "The PF's party operatives would come around twice a week and extort money from market traders," she says. "I had to pay them if I wanted to continue operating my business."
The new regime promises to stop such practices. "We will be available to listen and to support you," Hichilema said to citizens and entrepreneurs during his inaugural speech. He pointed to his own background as a businessman with interests in cattle ranching, tourism, health care and finance, to show that he understands entrepreneurs' concerns.
Small and mid-sized enterprises are engines of job creation and economic growth, Hichilema emphasises. "We have created the Ministry of Small and Medium Enterprise Development to facilitate the creation and growth of your businesses," he wrote on his Twitter feed recently.
The new administration's economic challenges are considerable. Zambia faces slow economic growth, high unemployment, heavy national debt and fiscal deficits and double-digit inflation. In addition, the country's currency is volatile and interest rates charged to small businesses are high.
A key to solving these problems is to promote entrepreneurship and job creation, the new president and his loyalists say. "We want to have a good partnership with small and mid-sized businesses," says Elias Mubanga national youth mobilisation chairman for the UPND. "When they succeed, we all succeed."

Derrick Silimina is a freelance journalist based in Lusaka. He focuses on Zambian agriculture and sustainability issues.
derricksilimina@gmail.com